Suzanne Taylor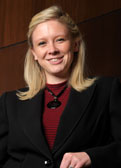 Ms. Suzanne Taylor was appointed to the Board of Regents of the Texas Tech University System on April 23, 2012. Ms. Taylor's one-year term began on June 1, 2012 and expires on May 31, 2013.

Ms. Taylor is a law student at the Texas Tech University School of Law and the seventh student to serve on the Board of Regents.

A native of Arlington, Ms. Taylor received her bachelor's degree in advertising from Texas Tech University in 2010 where she was heavily involved as a former Student Government President and President of Sigma Phi Lambda, a Christian girl's sorority.

At the Texas Tech University School of Law, Ms. Taylor is currently on the Board of Barristers and on a National Moot Court Competition Team. She enjoys continuing to help with Sigma Phi Lambda as an alumni council member and co-leading a College Bible Study Class. She currently works as a graduate assistant in the External Relations and Strategic Initiatives area in the President's Office.

Ms. Taylor is married to Brandon Taylor who is the customer relationship manager for Undergraduate Admissions. She will complete her law degree in May 2013.