Jim Brunjes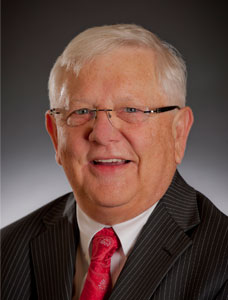 Vice Chancellor and Chief Financial Officer
Mr. Jim Brunjes became the Vice Chancellor and Chief Financial Officer of the Texas Tech University System in 1999. In this role, Mr. Brunjes is responsible for the Office of Investments, Equal Employment Office, Risk Management, Emergency Management and Information Systems.
Previously, he had served as the Vice President for Fiscal Affairs at Texas Tech University from September 1996.
Mr. Brunjes joined Texas Tech University as Vice President for Administration in 1991, responsible for administrative oversight, strategic planning, and budget coordination for Texas Tech University and the Texas Tech University Health Sciences Center.
He earned his B.A. in mathematics in 1969 and a Master of Statistics Degree in 1972, both from Texas A&M University.
From 1987 to 1991, Mr. Brunjes served as Associate Deputy Chancellor for Budgets and Information Systems at Texas A&M University.
From 1986 to 1987, he was Vice President of Systems at Dallas-based Southwest Airlines, with responsibilities for computer systems and reservation operations.
From 1984 to 1986, Mr. Brunjes was employed by Midwestern State University in Wichita Falls, Texas, as Vice President of Business Affairs.
From 1976 to 1984, he was Associate Vice Chancellor, Budgets and Computing at the University of Houston main campus, where he served as Interim Vice Chancellor, Finance and Administration in 1982.
After teaching secondary school mathematics, Mr. Brunjes led a major computer system project with Lockheed for NASA-Houston and was a research mathematician at Calspan (formerly Cornell Aeronautical Laboratory) from 1972 to 1976.