Michael Molina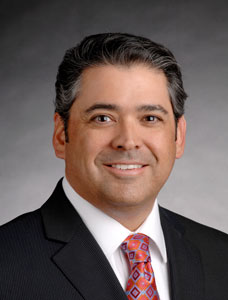 Vice Chancellor for Facilities Planning & Construction
Mr. Michael Molina assumed the position as the vice chancellor of facilities planning and construction (FP&C) for the Texas Tech University System on April 1, 2010. His responsibilities include overseeing a team of 32, focused upon all master planning, design and construction for facilities on each of the three institution's campuses of the Texas Tech University System.
He collaborates with Texas Tech University, Texas Tech University Health Sciences Center, Angelo State University and Texas Tech University Health Sciences Center at El Paso to develop a facilities and construction plan that accommodates each institution's 2020 enrollment goals.
As vice chancellor, he also plays a key role in leading campus planning in support of the system's research growth, which will be crucial in reaching Texas Tech's goal of becoming a national research university and achieving Tier One status.
Mr. Molina earned his bachelor's degree in architecture from Texas Tech in 1991. His experience with higher education includes more than seven years previously serving in various roles for the FP&C and physical plant operations at Texas Tech.
Mr. Molina also brings extensive team leadership from the private sector with more than 15 combined years in the retail development, design and construction industry, as well as private ownership of architectural and construction service businesses.
Mr. Molina is a member of the Texas Society of Architects, American Institute of Architects and Construction Specifications Institute. He serves as a board member for the Louise Hopkins Underwood Center for the Arts and maintains memberships in the Chancellor's Council, Red Raider Club and Texas Tech Alumni Association.