System Print Collateral
As part of our identity strategy, we've developed design solutions for a range of printed collateral materials. The examples shown within this page demonstrate only one of many possible solutions of that core design strategy, but they offer a clear view of the formats established to distinguish system marketing and communication materials from the university and health sciences center.
Skip to: Design Solutions
A Flexible, Yet Well-Defined Structure
To maintain a consistent look, we use a columned grid structure throughout our collateral system as well as standardized formats for various types of literature. Within these formats we have included the flexibility necessary to meet a range of information presentation needs. The common use of our underlying grid structure along with our signature colors, typography, branded imagery and other graphic elements ensures consistency across all communications, while providing a rich opportunity for creative design and writing solutions.
The examples shown in this guide are just a few of the many possible variations that can be developed within this identity system.
A Signature Graphic Device
We've incorporated a horizontal bar we call a "Signature Bar" into the top of all cover pages within the print collateral system in order to elevate the visibility of the new identity system and create a recognizable graphic device for all Texas Tech University System print collateral. The bar allows the Official Signature to maintain a position of prominence and allows the reader to quickly identify the source of the communication.
The Signature Bar for the Texas Tech University System's collateral materials is always Texas Tech Red. The university utilizes a black bar, while the health sciences center uses either a white or gray bar. Maintaining correct color use of this foundational graphic device across each institution is essential to the successful implementation of the design system. No exceptions should be made within print collateral applications.
The following table identifies standard print collateral sizes and prescribed Signature Bar depths that best align within our one-quarter inch grid system. For applications that fall outside of these standard forms, optically evaluate the relationship that best approximates our standard while aligning to the grid.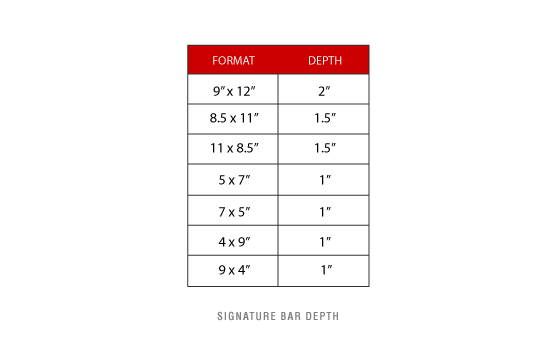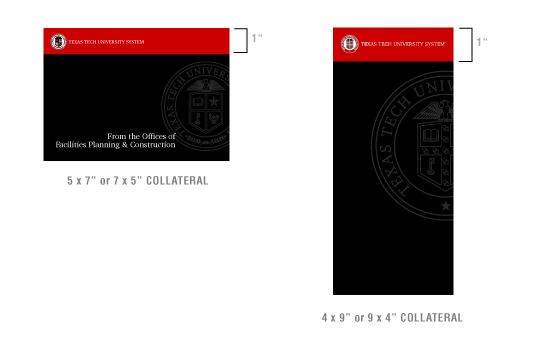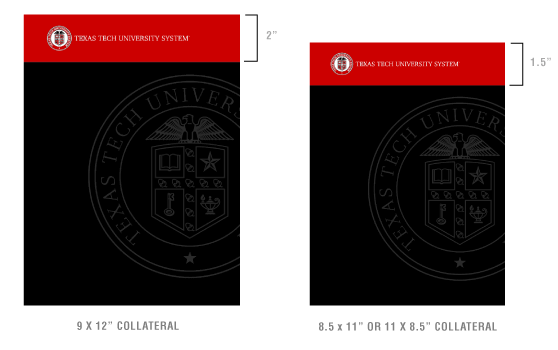 Design Solutions.
Back to Top
Although a single solution is presented here to demonstrate use of the Official Signature and the system's color strategy, a wide variety of solutions are possible within this print collateral system. By making use of the same underlying design principles demonstrated for the university and the health sciences center a similar range of design approaches can be employed using photography, color and typography. The primary requirements placed on concepts and designs for the system are that they remain consistent with our identity strategy and that they utilize the core visual elements of our system including the Signature Bar, grid, color palette, typography and official identities.