In This Issue
Helpful Links
A Message from the Chancellor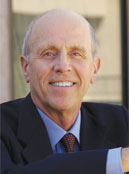 Dear Faculty, Staff and Supporters:

As the year draws to a close, I bring to you the winter edition of Leading the Way, the online newsletter of the Texas Tech University System. Our newsletter has recently gone through some modifications to better meet today's growing digital demand, and we will continue to make improvements in the issues to come.

It has been another successful semester for the Texas Tech University System and its component institutions, and we are proud to share with you some of our recent accomplishments from the fall of 2011.
This is a special time of year for so many people, and we are happy to celebrate the blessings you have helped make possible this holiday season. I am especially grateful, as this December marks my fifth year as chancellor.

Together, we have accomplished great things over the past five years, and I thank our faculty, students, staff and supporters who have helped us get to where we are today.

As we reflect at the end of the year, I think it is important to take another look at some of the milestones we have achieved.

• Collectively, enrollment has increased by approximately 18.5 percent at our component institutions since the fall of 2006, and all of our member universities are currently enrolling record numbers of students, while simultaneously improving the quality of our students.
• More than $100 million has been raised each year for the past five years for the betterment of our universities, and we are rapidly approaching the $1 billion goal for our capital campaign, Vision & Tradition, with more than $840 million raised as of November 2011.
• Accordingly, our national endowment ranking has improved from 118 in 2007 to 85 in 2010, ahead of schools such as Louisiana State, Arizona State, Tennessee, Oregon and many others. Also, our financial aid awarded to students system-wide has increased by nearly 50 percent, expanding from approximately $281.7 million in 2007 to $420.3 million in 2011.
• Over the last five years, the number of degrees awarded system-wide has increased by approximately 11 percent, providing more graduates who greatly contribute to the global workforce and health care industry. From Bernard Harris, who was the first African American to walk in space; Angela Braly, one of Fortune 500's most powerful women; Landel Hobbs, former COO of Time Warner Cable; Ed Whitacre, former CEO and Chairman of AT&T and General Motors; William Snyder, former Chairman and CEO of GEICO; and Major General Ronnie Hawkins, who has been nominated by the President as a three-star general and director of the Defense Information Systems Agency – our graduates go on to change the world.
• In 2011, our component institutions conducted more than $202 million in combined research, which is up from $74 million in 2006 and helping to solve some of the world's most complex scientific issues. Additionally, Texas Tech University is making significant strides in its journey to Tier One status, and appears to have met the requirements to gain access to the National Research University Fund, pending certification and a state audit.

This progress is outstanding, and our strategic plan outlines goals to ensure continued growth and success for the next decade. We are headed in the right direction because of the support and dedication from each of you.

Thank you for all that you do for the Texas Tech University System, and best wishes for this holiday season.

Very truly yours,

Kent Hance
Chancellor
Component Institutions Set Record Enrollments

With system-wide enrollment increasing nearly 20 percent since the fall of 2006, the component institutions of the Texas Tech University System continue to break enrollment records, collectively totaling more than 43,000 students. Texas Tech University set a record enrollment for the third straight fall semester as 32,327 students enrolled. [Read more.] For the first time in Angelo State's 83-year history, enrollment has surpassed 7,000 students at the university. [Read more.] Texas Tech University Health Sciences Center also enrolled its largest number of students in the institution's history with 4,089 students, up 11 percent from last fall. [Read more.]

Laura W. Bush Visits Lubbock to Support Institute

Former first lady Laura W. Bush visited Lubbock in October to show her support for Texas Tech University Health Sciences Center's Laura W. Bush Institute for Women's Health (LWBIWH) and raise awareness for the differences between men and women in health care delivery. Bush addressed these important differences at a luncheon supporting the LWBIWH and its research and educational programs. [Read more.] [Watch a video.]

Chancellor's Top Scholar Program Recruits Best Students

Chancellor Hance hosted an inaugural honor reception this past September, recognizing students in his Top Scholars program. Established by Hance in the fall of 2007, the Top Scholars program at Texas Tech University is a strategic recruitment initiative where Hance personally recruits students who have been admitted to the university with a score above 1500 on their SAT by calling them, paying for their travel to Lubbock and organizing first-class tours of campus. [Read more.] [Watch a video.]

Angelo State Receives Major HSI Grant

A year after being designated as a Hispanic Serving Institute (HSI), Angelo State University received an initial $1.1 million grant from the U.S. Department of Education. [Read more.]

Fundraising Sets Records, Earns Recognition

For five consecutive years, the Texas Tech University System (TTUS) has raised more than $100 million for its universities thanks to the generosity of donors and supporters. As a result of this success, TTUS has been ranked among the nation's top colleges and universities for fundraising efforts. [Read more.]

Texas Tech to Help Lead Climate Center

Texas Tech University will play a leadership role in a consortium of universities, tribal nations and regional partners that will make up the newly formed South-Central Climate Science Center. [Read more.]

TTUHSC Launches App Benefiting Mothers

The InfantRisk Center at the Texas Tech University Health Sciences Center launched a smartphone app which provides up-to-date, evidence-based information about medications and their safety for use during pregnancy and breastfeeding. [Read more.] [Watch a video.]

System Leadership Announcements
Tim Hudson, Ph.D., has joined the Texas Tech University System (TTUS) as a vice chancellor with a primary focus on distance education and academic affairs. 
As online education has become an increasingly vital component of higher education, Hudson will develop a comprehensive, system-wide strategy to enhance these programs, as well as coordinate and support the distance education programs at each of the component institutions and their off-campus sites.  [Read more.]

Other leadership changes include Jodey Arrington, former TTUS chief of staff, being named as vice chancellor for research, commercialization and federal relations. [Read more.]

Russ Bookbinder joined the Office of Research, Commercialization & Federal Relations to head corporate relations.  Russell Thomasson took over as chief of staff for the Office of the Chancellor and Robert Giovannetti joined TTUS as director of communications. [Read more.]
Angelo State Earns Third Straight Best College Honor

For the third consecutive year, Angelo State University has been listed by The Princeton Review (TPR) as one of the country's best institutions for undergraduate education, an honor that goes to only about 15 percent of the nation's more than 2,500 four-year colleges. Additionally, Angelo State was among 121 institutions in 15 western states to make TPR's "Best in the West" section of the guide's "2012 Best Colleges: Region by Region." [Read more.]

Collaboration Helps Pre-professional Health Students

With ever-changing expectations of professional health programs, creating a competitive and unique application requires a demonstration of both knowledge and experience. Students must constantly seek new ways to impress admissions boards and remain up to date on the newest qualifications. In order to serve this need, Texas Tech University's Honors College, in collaboration with the Texas Tech University Health Sciences Center, recently announced its new Health and Humanities track that will help students stand out among their peers. [Read more.]
Texas Tech, Angelo State Named Military Friendly

For the third consecutive year, Texas Tech University and Angelo State University have been named to G.I. Jobs magazine's national list of Military Friendly Schools. The designation puts both universities in the top 20 percent of universities, colleges and trade schools doing the most to embrace America's veterans as students. [Read more about Texas Tech.] [Read more about Angelo State.]