In This Issue
Texas Tech University System
Texas Tech University
Texas Tech University
Health Sciences Center
Angelo State University
Helpful Links
Our House on Hueco Not Your Typical Children's Story.
Clash between Hispanic and Anglo cultures highlights new young adult novel from Texas Tech Press.
TTU Press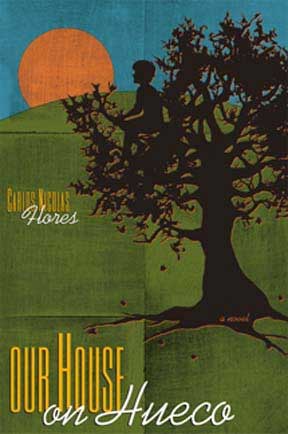 Ten-year-old Junior is thrilled and a bit nervous about moving from an El Paso barrio to the house his father has purchased in an Anglo part of town. His mother, who speaks only Spanish, is somewhat less thrilled, especially when she finds out the family will be living in the subterráneo—a dark, unfinished basement—until the white family renting the house above moves out.
That's how the story begins in "Our House on Hueco," a young adult novel by Carlos Nicolás Flores. The new book, published by Texas Tech University Press, explores the culture clash so familiar to many Texans in a story that is simultaneously entertaining, engrossing and informative.

As the ever-optimistic Pop works to improve his family's situation by adding an apartment to the back of the house, Junior and his little brother make friends with Tim and Kim, the children living above them. But soon tensions erupt—between Junior's mother and Tim and Kim's parents, between Pop and co-workers at his new job, and between Tim and Boogie, Junior's friend from the barrio—and these conflicts reshape Junior's relationships with family and friends, and threaten the new world his father is striving to create.

Flores is a co-founding director of the South Texas Writing Project and a winner of the Chicano/Latino Literary Prize. He teaches English at Laredo Community College in Laredo.
For more information about "Our House on Hueco," Texas Tech University Press has prepared a special page focusing on the book at http://www.ttup.ttu.edu/BookPages/0896725731.html. 
Warning: include(): http:// wrapper is disabled in the server configuration by allow_url_fopen=0 in D:\www\texastech\newsletter\stories\06Aug\book-review.php on line 53 Warning: include(http://www.texastech.edu/scripts/emailArticle/include.php): failed to open stream: no suitable wrapper could be found in D:\www\texastech\newsletter\stories\06Aug\book-review.php on line 53 Warning: include(): Failed opening 'http://www.texastech.edu/scripts/emailArticle/include.php' for inclusion (include_path='.;D:\php5_6\includes;D:\php5_6\extras;D:\php5_6\pear;D:\php5_6;D:\www;D:\www\include') in D:\www\texastech\newsletter\stories\06Aug\book-review.php on line 53