In This Issue
Texas Tech University System
Texas Tech University
Texas Tech University
Health Sciences Center
Angelo State University
Helpful Links
Ramirez, Hicks Named to Big 12 First Team
Red Raiders picked to finish third in the south division.
Athletics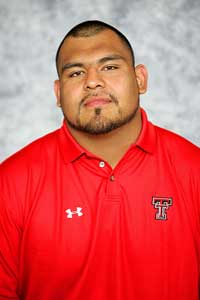 Manuel Ramirez
Texas Tech seniors Manuel Ramirez of Sugar Land and Jarrett Hicks of Houston have been named to the Big 12 Conference Preseason First Team. The two were selected in a vote by the league's media representatives.
"These two guys deserve all of the accolades that come their way," Texas Tech Head Coach Mike Leach says. "I thought we should have had more players named, but Manny and Jarrett are definitely deserving."
Ramirez, a preseason candidate for the Outland Trophy, is one of the most physical linemen in school history.  A starter since his freshman season, Ramirez has been a dominant force in the trenches for the Red Raiders, helping the program establish its offense as one of the nation's best year-in and year-out.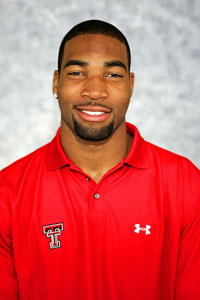 Jarrett Hicks
A two-time preseason All-American, Hicks quickly established himself as one of the nation's top receivers during his sophomore season. He currently holds the school record with 28 receiving touchdowns during his first three seasons. Hicks finished the 2005 campaign with a team-high 10 touchdowns and 850 yards on 65 receptions.
The Red Raiders, who were picked to finish third in the South behind Oklahoma and Texas, respectively, open the season against SMU at 6 p.m. Sept. 2 at Jones AT&T Stadium.
Learn more about Texas Tech's football program.
Warning: include(): http:// wrapper is disabled in the server configuration by allow_url_fopen=0 in D:\www\texastech\newsletter\stories\06Aug\football.php on line 54 Warning: include(http://www.texastech.edu/scripts/emailArticle/include.php): failed to open stream: no suitable wrapper could be found in D:\www\texastech\newsletter\stories\06Aug\football.php on line 54 Warning: include(): Failed opening 'http://www.texastech.edu/scripts/emailArticle/include.php' for inclusion (include_path='.;D:\php5_6\includes;D:\php5_6\extras;D:\php5_6\pear;D:\php5_6;D:\www;D:\www\include') in D:\www\texastech\newsletter\stories\06Aug\football.php on line 54