Eric D. Bentley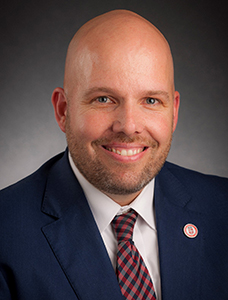 Vice Chancellor and General Counsel
Eric D. Bentley was named the vice chancellor and general counsel for the Texas Tech University System on Aug. 17, 2018.
Bentley arrived at the TTU System following a 15-year career in the Office of the General Counsel at the University of Houston System. While with the UH System, Bentley served in four positions, most recently as the senior associate general counsel.
As Vice Chancellor and General Counsel with the TTU System, Bentley provides legal counsel to the system and its component institutions, coordinates institutional compliance and oversees legal teams at each university.
During his tenure with the UH System, Bentley provided legal advice and assistance for the UH System, which included more than 70,000 students, 15,000 employees and an annual budget of more than $1.7 billion.
Bentley was among the senior members of the UH System Office of the General Counsel while providing high-level legal support to the president, vice chancellors, vice presidents and deans. He also served as the public information officer which supervised the attorneys and support staffs that handled subpoenas and public information act requests.
His experience with the UH System also includes providing legal expertise to the flagship's Department of Intercollegiate Athletics, Human Resources, Risk Management, Police Department, Student Affairs and assisting the Office of the Attorney General of Texas with defending lawsuits. He also provided legal counsel for health care-related issues.
In addition, Bentley designed course content and taught an undergraduate sports law course for the University of Houston's Department of Health and Human Performance as an adjunct professor. He also developed course content and taught a doctoral level higher education law course for the UH College of Education.
Bentley earned a bachelor's degree in justice administration from Hawaii Pacific University.
He received a master's degree in sports management from the United States Sports Academy in 2003 and earned a Juris Doctor from the University of Houston Law Center the following year.
Eric and his wife, Mandy, have two children, daughter, Avery, and son, Camden.
Email: eric.bentley@ttu.edu
Phone: (806) 834-0597