Glenda Robinson Helfrich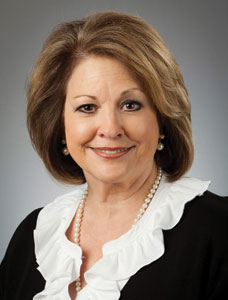 Managing Attorney & General Counsel
Glenda Robinson Helfrich has been a member of the Office of General Counsel since March 1992. Prior to joining the Texas Tech University System, Glenda was engaged in the private practice of law for approximately seven years in Lubbock.
Having previously served as a lawyer on the general academic campus at Texas Tech University, her current responsibilities involve the advisement of administration, faculty and staff at Texas Tech University Health Sciences Center, where she has served for more than 20 years. Her practice includes employment, health care and regulatory issues, matters related to faculty and Graduate Medical Education, unemployment compensation, federal and state administrative issues involving EPA, HHS, CMS, OCR, the Texas Medical Board, and Texas Medicaid.
Glenda received her Bachelor of Science from Texas Tech University in 1969 thereafter she taught English and Spanish. She received her law degree from Texas Tech University School of Law in May 1985, was admitted to the Bar in November 1985, and is a member of the State Health and Employment Law sections of the State Bar of Texas.
Glenda is a certified mediator and is licensed to practice in the State of Texas, the Federal District Court for the Northern District of Texas, and the U.S. Court of Federal Claims.