Texas Tech Center for the Southwest Archive
Southwest Conference - April 26 - 28, 2007
The Texas Tech University Center for the Southwest and the College of Education Bilingual Education and Diversity Studies Program, through the support of the Helen Devitt Jones Foundation, have collaborated to present a conference on the topic of Hispanics in the Southwest, Hispanics have been a major part of the American southwest for more than five hundred years and a diverse set of ideas and thoughts have emerged as a result of their presence. This conference will offer a series of academic papers, presentations, and discussions on topics relating to the areas of immigration, education, health, and public policy. Nationall known experts from each field will keynote and lead the presentations within each area.
A Higher Form of Low Art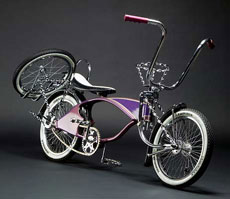 03.06 :: College of Visual and Performing Arts
You can't miss 'em cruising down the street: Lowslung spectacles of eye-popping wonder. Shrieking sunbursts of yellow. Burning bolts of orange. Sleek as a shark's fin. Cool as the Blues. One thing is instantly clear: These mellow marvels ain't your daddy's Schwinn. These bikes have bling.
Low rider bicycles are much like their big brothers, the better known low rider cars, elaborately painted, finely sculpted and meant to be seen. [read more]
"Deep Time and the Texas High Plains: History and Geology"
A History Focusing on Lubbock Lake Landmark's Long Geologic Past.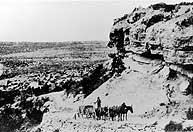 04.06 :: Texas Tech Center for the Southwest
An afternoon trip with his grandson to three years ago sent Paul H. Carlson on an unexpected journey that lasted two and a half years. A period in which he pored over as many as 400 archeological, anthropological and geological papers and books about the Lubbock Lake Landmark, one of the nation's most important archeological sites. [read more]