Home /
Spirit and Athletic Marks
Spirit and Athletic Marks
The Double T is the symbol of our most cherished university traditions and of our competitive spirit both on and off the athletic fields. Known to national audiences primarily through our athletic programs, the Double T is part of an integrated system of Spirit and Athletic Marks that utilize a custom typeface for all letterforms. These include the 3D Double T, the Red Raiders and Lady Raiders lockups, the Red Raiders mark with side view of the Masked Rider on horse, the forward-facing Masked Rider mark, the Lil' Red Raider mark and numerous Texas Tech sports marks. Other legacy Raider Red mascot images, spirit marks and logotypes are also currently in use.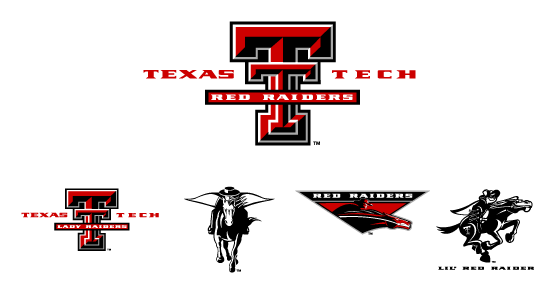 Correct Use
Texas Tech Spirit and Athletic Marks help to promote the Texas Tech experience and should be used as such to reflect pride in our accomplishments and celebrate our rich traditions wherever appropriate. Examples would include non-academic program literature, promotional merchandise and apparel, decals, signs and banners. In addition, these marks can be used as important supporting elements in student recruitment materials and at events.
In general marketing and communication, look for opportunities to promote the Double T and other Spirit and Athletic Marks by selecting photography that places them in the proper context. Those activities may include spirit events, athletic competitions or students wearing spirit apparel.
The Double T may also be used in the lower right-hand corner of academic brochures and letterhead, providing it is used at seventy-five percent of size of the Official Signature in order to complement and not compete. It may also be used on the backs of business cards as noted in the section on paper systems.
These marks are primarily used to identify Texas Tech University athletic teams and spirit organizations. However, registered student organizations, student sports teams, resident hall organizations and university departments may use these marks for "in-house" purposes (such as posters, signs, banners or brochures) that deal with on-campus activities. They may be used as a supporting spirit mark in academic materials, but they may not be used to singularly represent the academic unit. Use of the Double T and other spirit marks must reflect positively on the University and must be reproduced accurately by a licensed vendor of Texas Tech. Approval from the Director of Licensing is required.
Management and licensing use of these trademarked identities resides within the Athletic Department and is in partnership with the Collegiate Licensing Company. Contact Paige Holland in the Athletics Department at (806) 742-1195 for all inquiries related to use of the Double T and other Spirit and Athletic Marks.
Additional information on policies and guidelines for in-house Texas Tech use may be obtained from licensing guidelines published by the Texas Tech University Athletics Department available on its Web site under the athletic department link.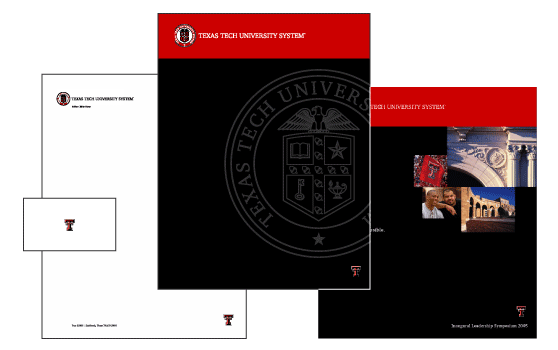 Incorrect Use
In order to establish and maintain a clear distinction between the academic and athletic offerings of Texas Tech, Spirit and Athletic Marks may not be used as primary identifiers for system offices, departments, programs or centers. Examples would include paper systems, brochures and Web sites. Other examples of inappropriate use would be replacing the Official Seal with the Double T in a System Signature, placing the Double T mark at a comparable size and in close proximity to an Official Seal or Signature, and otherwise compromising clear distinctions between these important symbols in academic or administrative communication.