School of Pharmacy Program Expands to Abilene
development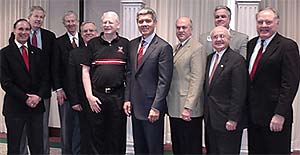 Left to right: Texas Tech University System Regent Scott Dueser; Tucker Bridwell, Dian Graves Owen Foundation; Joe Cannon, Dodge Jones Foundation; Abilene Mayor Norm Archibald; School of Pharmacy Dean Art Nelson; President Wilson; Hendrick Health System President Tim Lancaster; Texas State Representative Bob Hunter; Hendrick Health System Vice President Joe Pearson and Texas Tech University System Regent Bob Stafford.
AMARILLO — The Texas Higher Education Coordinating Board on Jan. 26 approved the Texas Tech University Health Sciences Center's plan to expand the School of Pharmacy doctorate, Pharm.D., program into Abilene.
The Abilene site will join Dallas- Fort Worth and Lubbock as satellite campuses to the main School of Pharmacy campus in Amarillo. The first classes for the Abilene program are scheduled to begin in August 2007. Like Amarillo, the Abilene satellite campus will offer all four years of the Pharm.D. program.
A group from Abilene approached Health Sciences Center in the fall of 2004 about the possibility of expanding the pharmacy program to their city. The group, known as the Abilene Community Partners, includes the city of Abilene, the Economic Development Corporation of Abilene, Hendrick Health System, Sears Methodist Retirement System, the Dodge Jones Foundation, the Dian Graves Owen Foundation and the Shelton Family Foundation.
The group has pledged $14 million to date, which will subsidize the program through FY2011 and pay for the land and construction of a 36,000-square-foot facility for the program. The facility will be constructed on the grounds of the Hendrick Medical Center campus.