From Here, it's Possible Contest
development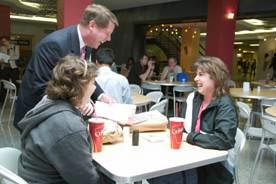 Lubbock Regent Mark Griffin shares a laugh with students as he promoted the contest.
In February, we kicked off the "From Here, it's Possible" contest , whose purpose is to collect stories about the successes and accomplishments of Texas Tech's alumni, faculty, students and staff. These stories will be used to let people in distant parts of Texas and beyond know what is so special about Texas Tech University and TTU Health Sciences Center.
86 entries were received by the March 27 deadline. The judging process begins immediately. Contest winners will receive box seat tickets to football and basketball games, Texas Tech University Press books, student scholarships and will be feted at a "From Here, it's Possible" party in April.
"We will have a great number of fresh, new Texas Tech success stories to use in our promotional efforts," says Dr. Alice White, director of public relations.