Kristy Curry Named Head Coach of Lady Raiders
Curry becomes just the fifth head coach in Lady Raider basketball history
Athletics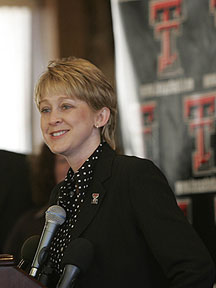 Kristy Curry says she is "incredibly proud to be a part of the Texas Tech University family and the community . . . this is where we want to raise our family. This is where we want to put our roots down."
Texas Tech athletics director Gerald Myers has announced the hiring of Kristy Curry as head women's basketball coach. Curry takes over the Lady Raider basketball program after serving the last seven years as the head coach at Purdue University in West Lafayette, Ind.
Curry becomes just the fifth head coach in the history of women's basketball at Texas Tech. She takes over for Marsha Sharp who announced her resignation earlier this year.
In her seven years at the helm of the Boilermakers, Curry became one of the most successful coaches in Purdue history. During her time on the Purdue sidelines, she compiled a career record of 179-51 (.778) and was 86-26 (.768) in Big Ten Conference games. Curry's teams won two Big Ten regular-season and three Big Ten Tournament championships. She also guided her teams to seven NCAA Tournament appearances, including the Final Four and championship game in 2001. Curry became just the second coach in NCAA history to guide her team to the NCAA championship contest in her second year as a head coach.
Not only has Curry had successful teams, but she has also coached some very successful student-athletes in her time in West Lafayette. Under Curry's leadership at Purdue, Katie Douglas became only the third player in Big Ten history and the first Purdue player to earn two Kodak All-America honors (2000, 2001). Douglas was the 2000 and 2001 Big Ten Player of the Year, and was named the 2001 Big Ten Female Athlete of the Year. A two-time All-Big Ten pick, Douglas is one of six Purdue players under Curry to earn first team all-conference honors.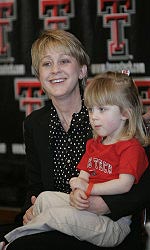 Kristy Curry with daughter, Kendall. She and husband, Kelly have two daughters, Kendall (2) and Kelsey (5).
The on-court success of her teams has carried over into the classroom as well. Twenty-four times her student-athletes received Academic All-Big Ten distinction since 2000. Every Boilermaker who has finished her playing career at Purdue during Curry's tenure has graduated.
Off the court, Curry has been very involved in the Greater Lafayette community, especially with Tippecanoe County Family Services, a United Way Agency, for which she has served as a spokeswoman. In association with Family Services, Curry has recorded public service announcements and made personal appearances for fundraising events. Curry has also given her time to the Girl Scouts and Habitat for Humanity.
Curry began her coaching profession in her home state of Louisiana as she started at the prep level at Weston (1988-90) and Mansfield (1990-91) high schools. From there, Curry quickly moved to the college ranks as an assistant at Tulane for two seasons (1991-93). Curry then spent a year at Stephen F. Austin (1993-94) before moving on to Texas A&M for the next two years (1994-96). She then returned to the state of Louisiana to be an assistant coach at Louisiana Tech for Hall of Famer Leon Barnmore for three seasons (1996-99).
A native of Olla, La., Curry graduated from LaSalle High School and then went on to earn her bachelor of science degree in health and physical education at Northeast Louisiana in 1998, and her master of science in kinesiology at Stephen F. Austin in 1994.
Visit the Lady Raider Basketball website for full press conference transcript and video.
Noteables
Head Coach – Purdue University (1999-2006)
Career record – 179-51 (.778)
Big Ten record – 86-23 (.768)
NCAA Tournament record – 15-7 (.682)
1999-00 – 23-8 record, Big Ten Tournament champions, NCAA Tournament
2000-01 – 31-7 record, Big Ten regular-season champions, NCAA Final Four and championship game appearance
2001-02 – 24-6 record, Big Ten regular-season champions, NCAA Tournament
2002-03 – 29-6 record, Big Ten Tournament champions, NCAA Elite Eight
Feb. 23, 2003 – Won 100 th game in a 74-48 victory over Indiana
2003-04 – 29-4 record, Big Ten Tournament champions, NCAA Sweet 16
2004-05 – 17-13 record, NCAA Tournament
2005-06 – 26-7 record, NCAA Sweet 16