Morgan Earns National Pitcher of the Week Honors
Athletics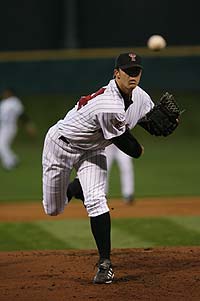 Pitcher Miles Morgan, Lubbock native and redshirt freshman
Redshirt freshman right-hander Miles Morgan was named the Collegiate Baseball Magazine Louisville Slugger National Pitcher of the Week for his outstanding performance March 18 against the Texas Longhorns.
Morgan, a Lubbock native and Coronado High School standout, turned in one of the best pitching performances by a Red Raider in school history in the 2-1 win over Texas. The redshirt freshman dominated the then 16th-ranked Longhorns by turning in his first career complete game that included 15 strikeouts and no walks. Morgan became the first Texas Tech pitcher to throw a complete game this season and in the process he set a new TTU record for the most strikeouts in a Big 12 game.
Over nine innings of work, Morgan allowed just one run and scattered four hits en route to his fourth win of the season. His 15 strikeouts pushed his season total to 60, leading all Big 12 pitchers for the season. The 15 strikeouts were the most by a Tech pitcher since Monty Ward struck out 18 against Lindenwood in 1998 and the most thrown against a Texas team since Baylor struck out 16 Longhorn hitters in 1999.
Morgan is the first Red Raider to earn National Pitcher/Player of the Week honors since Josh Brady did so in February 2004.