Preserving Texas Music for Future Generations
Research/Academic Showcase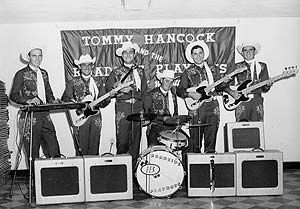 Tommy X Hancock and the Roadside Playboys, 1952
The Crossroads of Music Archive is a project of Texas Tech's Southwest Collection/Special Collections Library that seeks to collect music and personal effects of Texas musicians, especially aging Texas musicians. The archive, now about four years old, is building a collection of music, memorabilia, interviews – anything having to do with Texas music.
Andy Wilkinson, artist-in-residence at the Southwest Collection and visiting assistant professor in the School of Music, says that music preservation is important both culturally and historically.
"When the singer dies, the song dies with them, even though a version of it may continue, handed down in someone else's voice or as part of another melody," Wilkinson says. "Years or hundreds of years later, we can still infer something about it, but much is lost. Wouldn't we be the wiser were we able to hear the exact rendition of 'The Unfortunate Rake' brought over by immigrants from the British Isles, then hear it change into 'The Cowboy's Lament' as it crossed the Mississippi, or into 'The Saint James Infirmary Blues' as it drifted down to the delta?
"Here at the Southwest Collection, we agree, so we've established the Crossroads Music Archive to do as much as we can to save the living histories and cultural road maps of our region," he says.
Wilkinson says the archive will not limit itself to just musical recordings, but will collect important music memorabilia as well.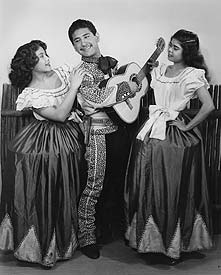 Conjunto musician Pedro Gonzales, 1951
"We have some items that are rare artifacts, including rare books, as well as other items that are often called ephemera – posters, calendars, newspaper clippings and even business records," Wilkinson says. "We also have oral history interviews that have been done for years and are now a big part of the Southwest Collection here at Texas Tech."
The archive is growing quickly. Some of the performers who have already donated materials or recorded interviews include Hancock, fiddle champion Texas Shorty, bluegrass musicians Joe Carr and Alan Munde, guitarist Jesse "Guitar" Taylor, fiddle player Jim Chancellor, opera singer Mary Jane Johnson, and Virgil Johnson, the lead singer of the Velvets.
"We recently acquired the Don Caldwell Collection of over 5,000 reel-to-reel tapes that document over 30 years of influential musical recordings," Wilkinson says. "And just this fall, we've begun picking up and processing over 300 oral history interviews done by Dr. Kathleen Hudson at the Texas Heritage Music Foundation in Kerrville. She's been interviewing Texas singer-songwriters since the 1980s – people like Stevie Ray Vaughan, B.B. King, Willie Nelson and others."
Music is one of the most ephemeral of human endeavors – for all but the most successful musicians, once they're gone, their music dies with them. Texas Tech researchers are working to make sure that the music of Texas musicians will live forever.