Get Your Red Raider Card
Alumni Highlights
Looking for a way to support Texas Tech without straining your pocketbook? The Texas Tech Alumni Association has teamed up with Chase to provide Texas Tech alumni the opportunity to give back to their university every time they use the Red Raider MasterCard.
Choose between two designs of the Red Raider Card: the Red Double T on a red background or the west side of the Administration Bell Tower rising above campus on a gold background. Select the one that fits you best and show your Red Raider pride!

With the Flexible Rewards Card, you can show your school support, AND get the new, innovative Flexible Rewards that let you choose your reward. Earn 1 point for every $1 you spend in net purchases and redeem for your choice of travel, cash, merchandise or gift certificates/gift cards. All with no annual fee!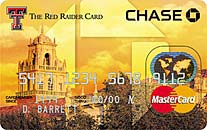 The Chase Red Raider MasterCard
Benefits Include:
Up to $500,000 Travel Accident Insurance
Purchase Assurance
Extended Warranty
MasterRental® Insurance Coverage
Master RoadAssist® Roadside Coverage
Up to $3,000 Lost Luggage Insurance
Zero Liability On Unauthorized Purchases
Lost/Stolen Card Reporting
MasterCard Global Service
Travel Assistance Services
Emergency Cash and Card Replacement
Year-End Summary Statement (upon request)
Certain restrictions, limitations, and exclusions apply. Once your account is opened, please see your Guide to Benefits for details.
For more information regarding the Red Raider Card, please visit www.RedRaiderCard.com.