Tee Off for Tech
Alumni Highlights
Don't miss out on the 2006 Texas Tech Alumni Association (TTAA) Discount Golf Book, which offers wonderful discounts to golf courses statewide!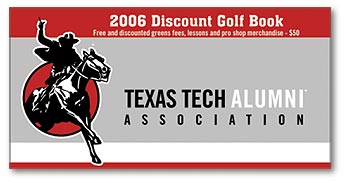 Benefits include:
Discount coupons to more than 20 Texas golf courses
Golf lessons at a discounted rate
Free green fees
More than 20 courses with 2-for-1 green fees
You can purchase the 2006 TTAA Discount Golf Book for only $50. The very best part about it is that all proceeds go towards the Texas Tech Alumni Association Scholarship Fund!
If you are interested in purchasing the 2006 TTAA Discount Golf Book, please contact Beth Adams at
beth.adams@ttu.edu
or 214.630.1933 or Dayme Mullins at
dayme.mullins@ttu.edu
or 512.420.9401.
Order your golf book online at:
https://www.texastechalumni.org/member/ttu_golf/discountgolf.html
.