Research/Academic Showcase
Buck Ramsey's "Grass" Makes its Return to Print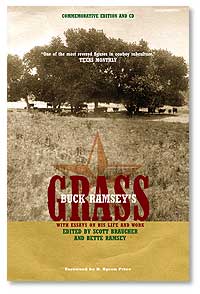 Cowboy poetry is simultaneously one of the oldest and one of the youngest of the American folk arts. Generations of pioneers wrote poetry to document their lives and their struggles in the American frontier, but the art form has only begun to grow in popularity in the past few decades. And now, thanks to Texas Tech University Press, one of the foremost classics of the genre is again available for both aficionados and poetry novices to enjoy.
First published as "And As I Rode Out on the Morning," Buck Ramsey's epic poem of cowboy life is an acknowledged classic. In this new edition, the editors have restored the poem's original title, "Grass," and have gathered insightful commentaries on Ramsey's work from poets, musicians, historians and others devoted to the cowboy way and movement.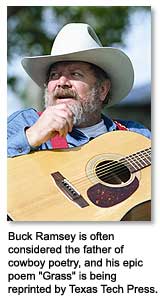 Completing the package are Ramsey's original short story on which he based the poem and a CD of the original 1990 recording of Ramsey performing "Grass" in John Hartford's home studio in Nashville, introduced by playwright and poet Andy Wilkinson. Wilkinson is currently artist-in-residence at the TTU Southwest Collection.
Buck Ramsey (1938–1998) affectionately claimed the cowboy poets as his tribe. They in turn call him the father of cowboy poetry. "Anthem," the prologue to "Grass," is often praised as the finest single piece of literature to arise from the cowboy renaissance. This edition is essential reading for anyone interested in cowboy poetry or the cowboy way of life.
For more information about "Buck Ramsey's Grass: With Essays on His Life and Work," Texas Tech University Press has prepared a special page focusing on the book. (http://www.ttup.ttu.edu/BookPages/0896725693.html)