Research/Academic Showcase
Texas Tech University
Texas Tech University Health Sciences Center
Alumni Highlights
Development
Athletics
Texas Tech University Press
Helpful Links
Paving the Way Begins
Brick by brick, a student-led scholarship drive is building opportunities for future Red Raiders.
Development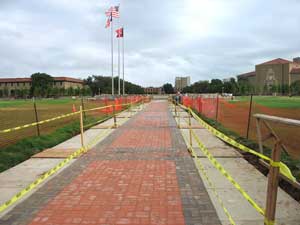 Construction on the Pathway to Success Scholarship walkway is underway at Memorial Circle. A dedication ceremony is planned for April 2007.
Construction is well underway for a walkway leading from the Administration building to the center of Pfluger Fountain in Memorial Circle.
The Scholarship Walkway to Success campaign is a student-led scholarship campaign spear-headed by the Texas Tech Student Government Association. The main objective is to increase merit and opportunity scholarships that are used to recruit students to Texas Tech. Each gift of $1,000 is commemorated with engraved bricks along the walkway.
Endowment gifts above $10,000 and at the $100,000 levels will be commemorated with much larger pavement sections of two different sizes. Endowment gifts can be used for university merit and opportunity scholarship endowments or for scholarships to any college or program.
In the past year $1.5 million has been raised toward the $5 million dollar goal. Of that, $4 million will establish an endowment to keep the scholarship program growing for future Red Raiders. The remaining amount will have an immediate impact on current students.
A special donor recognition event is planned for April 2007.
Related Links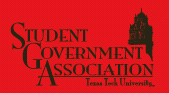 Download the Paving the Way Brochure
To inquire about purchasing a brick, contact the Student Government Association at (806) 742-3631 or the Honor's College at 742-0036 ext. 244.
Warning: include(): http:// wrapper is disabled in the server configuration by allow_url_fopen=0 in D:\www\texastech\newsletter\stories\06Sep\paving.php on line 54 Warning: include(http://www.texastech.edu/scripts/emailArticle/include.php): failed to open stream: no suitable wrapper could be found in D:\www\texastech\newsletter\stories\06Sep\paving.php on line 54 Warning: include(): Failed opening 'http://www.texastech.edu/scripts/emailArticle/include.php' for inclusion (include_path='.;D:\php5_6\includes;D:\php5_6\extras;D:\php5_6\pear;D:\php5_6;D:\www;D:\www\include') in D:\www\texastech\newsletter\stories\06Sep\paving.php on line 54