Home /
Congressman Randy Neugebauer to Host a Special Order Honoring Chancellor Kent Hance on House Floor
Congressman Randy Neugebauer to Host a Special Order Honoring Chancellor Kent Hance on House Floor
Viewers can watch the special order live on the House of Representative's website or CSPAN.
April 9, 2014 | Written by Karin Slyker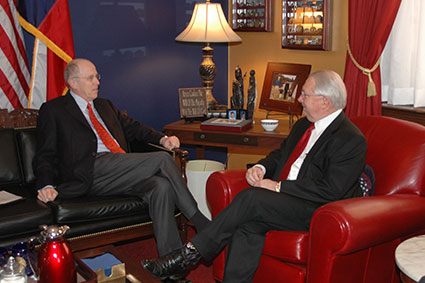 Photo courtesy: Rep. Randy Neugebauer (TX-19)

---
THE SPECIAL ORDER IS LIKELY TO BEGIN AT 5:30 PM ET/4:30 PM CENTRAL. VIEWERS CAN WATCH THE SPECIAL ORDER LIVE ON THE HOUSE OF REPRESENTATIVE'S WEBSITE OR CSPAN.
On Wednesday, April 9, Congressman Randy Neugebauer will host a special order on the House floor to honor retiring Texas Tech University System Chancellor and former Member of Congress Kent Hance. Neugebauer will be joined by other Members of Congress to pay tribute to Hance's achievements.
Hance has served as chancellor since 2006, during which time he grew the TTU System's endowment by more than 80 percent. He achieved an ambitious goal of raising more than $1 billion for the system, and helped the TTU System's endowment surpass $1 billion for the first time in system's history. Hance also played a prominent role in the expansion of the TTU System, incorporating Angelo State University in 2007 and creating the Texas Tech University Health Sciences Center at El Paso in 2013.
Hance had a long career as a public servant, which included serving three terms in Congress representing Texas' 19th Congressional District. Hance authored and won passage of President Reagan's tax bill in 1981, which provided the largest tax cut in the nation's history. During his tenure, Hance served on the Ways and Means Committee, the Agriculture Committee, and the Science and Technology Committee.
CLIPS WILL BE MADE AVAILABLE FOLLOWING THE SPECIAL ORDER ON CONGRESSMAN NEUGEBAUER'S YOUTUBE CHANNEL.