John D. Steinmetz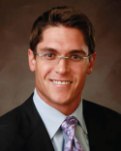 Mr. John D. Steinmetz of Lubbock was appointed by Gov. Rick Perry to the Board of Regents of the Texas Tech University System on February 1, 2011. He currently serves as chairman of the Finance and Administration Committee and a member of the Audit Committee. Mr. Steinmetz previously served as a member of the Academic, Clinical and Student Affairs Committee. His term will expire on January 31, 2017.
Mr. Steinmetz is president of Vista Bank in Lubbock, overseeing all aspects of the organization's commercial and retail banking functions. Additionally, he is responsible for strategic planning, institutional policies and client relations.
Prior to his current position, Mr. Steinmetz served as vice president of business development for PlainsCapital Bank in Lubbock after working for the PlainsCapital Bank Corporation as special assistant to PlainsCapital Chairman and CEO. He also previously worked with the Bush Administration in the Executive Office of the President at the White House in Washington, D.C.
He has also served as a board member of numerous organizations such as the Texas Lyceum, Lubbock Chamber of Commerce, Young Life of Lubbock, Brazos River Authority and Lubbock County 2010 Census Committee. Mr. Steinmetz was also the co-founder of the Young Professionals of Greater Lubbock, a past president of the Lubbock Boys and Girls Club and a former recipient of the Volunteer Center of Lubbock's Young Professional of the Year award.
Mr. Steinmetz received a bachelor's degree in finance from Texas Tech University Rawls College of Business in 2002.
While attending Texas Tech, Mr. Steinmetz served as president of the Texas Tech University Student Government Association where he founded Texas Tech's RaiderGate, was co-founder of the Student Red Raider Club and was a member of the Phi Delta Theta fraternity.
A Texan, Mr. Steinmetz and his wife, Jaemie, a graduate of the Texas Tech University College of Human Sciences, have one son, John David. They reside in Lubbock and are members of First Baptist Church.