Chancellor's Blog

Same Table, Different Seat
May 29, 2015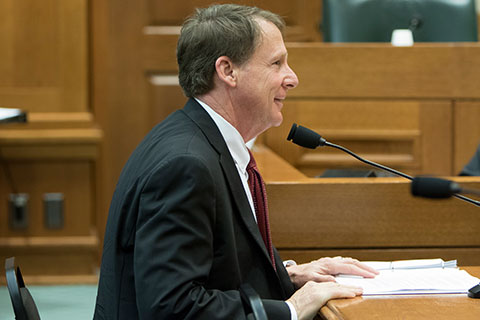 Chancellor Robert L. Duncan testifying during the 84th Texas Legislature.
---
One of the things I hold most dear is the political process. I don't mean the campaigning and the run-up to elections – that's one thing I don't miss about my previous career! I'm talking about what happens once the elected officials show up to do the job they were elected to do. And I so enjoyed being a part of this process during my time in the Texas Legislature.
As you may know, the Texas Legislature convened in early January for its constitutionally mandated 140-day session in Austin. There is lots of work to be done, and not a whole lot of time to do it. The Legislature must construct and approve a state budget before it can recess. It is always the top priority because without an approved budget, nothing else happens.
While my career has changed in so many ways, my role as Chancellor still allows me to be a part of this process I know and loved. This time, however, I am sitting on the other side of the table.
Throughout the first half of the session, I have made a number of trips to Austin to work on behalf of the Texas Tech University System. I have testified before committees on a wide range of issues – the most important of which is making sure our elected officials understand the difference higher education makes in the lives of Texans.
As is the case every session, we have a handful of legislative priorities that you can read about here, and we have a handful of Red Raiders working hard alongside me. The president of each component institution also has testified regarding items specific to their institution, and we have a very talented government relations team that works on behalf of the system as well. That team is another example of the tremendous talent we have on hand here at the TTU System, and I am truly grateful to have them on our side.
One of the most important parts of this entire process is maintaining an open dialogue. Our legislators are interested and invested in Texas higher education. We enjoy the opportunity to sit at the table and discuss our priorities as well as why they are priorities. It's an important conversation for us and for them.
How will it all turn out? It's too early to even begin speculating. As I said, the Legislature has a lot of work to get done between now and June 1, the official last day of the session. We are truly grateful for the time and energy these representatives and senators put in on our behalf. They are often subject to quick criticism, but we so appreciate their service and dedication to the people of Texas.
Obviously, one thing that has changed dramatically from the last session is the side of the table I now sit on. Instead of asking questions of higher education leaders, I'm answering them on behalf of a higher education system. Instead of being in the room after the conversation and having a part in the decision-making process, I'm back in Lubbock waiting to see how that part goes.
Yes, the role has changed, but one thing that hasn't changed is the process. I felt fortunate to represent the people of the South Plains in Austin for almost twenty years, and I feel equally fortunate for the opportunity to now focus my efforts on the TTU System. And as I settle back into my office here to the Texas Tech campus after returning from another trip to the State Capitol, I'm reminded once again that there is no place like home!
| | |
| --- | --- |
| Have a comment on this blog post? Email and let us know. | |