In This Issue
Texas Tech University System
Texas Tech University
Texas Tech University
Health Sciences Center
Angelo State University
Helpful Links
Study Predicts Increased Hantavirus Risks
In a study published by Texas Tech's Occasional Papers series, scientists at Johns Hopkins and University of New Mexico predict increased hantavirus risk this year in the Four Corners region, where New Mexico, Colorado, Arizona and Utah meet.
Research/Academic Showcase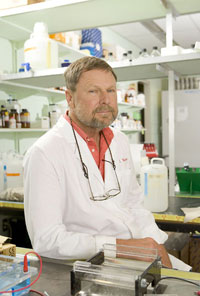 Robert Baker, Horn Professor of Biology
Residents in the Four Corners region of the United States, where Arizona, New Mexico, Colorado and Utah meet, will be at greater risk for hantavirus infection this year than in 2005, according to a study published by Texas Tech University.
Researchers at Johns Hopkins Bloomberg School of Public Health and the University of New Mexico forecast the hantavirus risk in 2006 to be "moderate" or similar in severity to the six and eight cases recorded in the region in 1998 and 1999, respectively.
Hantavirus is a respiratory lung disease and it is believed to be spread through contact with infected rodents, their excretions or saliva. Symptoms begin with fever, chills and muscle pain and escalate into coughing, shortness of breath and swelling of the lungs, which requires medical attention.
Texas Tech Journal Among the First to Forecast Outbreaks
The 2006 forecast is based on an analysis of satellite imagery and is published in the July 12 edition of The Museum of Texas Tech University's journal, Occasional Papers. It's among the first to forecast the locations and extent of infectious disease outbreaks.
Dr. Robert Baker, Horn Professor of Biological Sciences at Texas Tech and editor for the Occasional Papers series, says the study used samples of frozen tissues from TTU's Natural Science Research Laboratories to establish which species of mice place humans at risk.
The findings permitted the Johns Hopkins and University of New Mexico researchers to see what species served as reservoirs for hantavirus and the geographic distribution of those species.  Such information permits a better understanding of risk associated with this disease, according to Baker.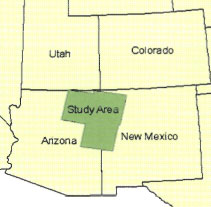 "The research can be used to understand what activities result in a risk of hantavirus," he says. "If you live in this area and exposed to rodent droppings, for example, you're cleaning out a house or barn where deer mice are living, then you should understand you are at risk for hantavirus."
Hantavirus pulmonary syndrome is a rare but deadly respiratory disease caused by exposure to a variety of hantaviruses. People contract the virus through contact with rodents and rodent droppings.
The disease made headlines in 1993 when it was first diagnosed. New Mexico leads the country with 68 cases since its discovery, though Texas has reported 32 cases, according to the U.S. Centers for Disease Control and Prevention.
Four Corners Region at Greater Risk this Year
"The conditions in the Four Corners region tell us that there is a greater risk for hantavirus this year compared to last year," says Gregory E. Glass, the study's lead author and a professor in the W. Harry Feinstone Department of Molecular Microbiology and Immunology at the Bloomberg School of Public Health. "Our study demonstrates that satellite imagery can be used to identify the location and extent of infectious diseases spread by animals."
| | |
| --- | --- |
| 2006 Estimated Risk | 2005 Estimated Risk |
| Images taken from "Predicted Hantavirus Risk in 2006 for the Southwestern U.S," published by Gregory E. Glass, Timothy M. Shields, Robert R. Parmenter, Diane Goade, James N. Mills, James Cheek, Joseph Cook, and Terry Yates. | Color scale is blue (low) to red (high) and does not estimate absolute risk. |
Research Contacts:
Robert Baker, Horn professor of Biology, Department of Biological Sciences, Texas Tech University, (806) 742-2702, or Cindy Foster, public affairs office, University of New Mexico, (505) 272-0260.
Visit Robert Baker's faculty page.
Read about more research at Texas Tech University.
Read about more research at the Health Sciences Center.