In This Issue
Texas Tech University System
Texas Tech University
Texas Tech University
Health Sciences Center
Angelo State University
Helpful Links
Fioroni Announced As Texas Tech Hockey Team Club Head Coach
Lubbock Cotton King veteran standout Paul Fioroni has been announced as the head coach of the Texas Tech Hockey Club team, the club announced Monday.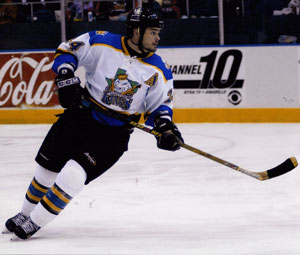 Paul Fioroni
Fioroni, who announced his retirement from the Lubbock Cotton Kings Monday, will assume his role with the team effective immediately.
Fioroni joined the Cotton Kings as a left wing in the 2000/2001 season and played a role in helping the team reach the President Cup Finals.
"It is a tremendous honor to be selected to coach the Texas Tech Hockey Club team," Fioroni said. "It's remarkable that a university club team attracts so much national talent each year, and I'm looking forward to the upcoming season."
Fioroni's goals include an aggressive fund-raising initiative.
"Because this is a club sport, less than 2 percent of our budget comes from university funding," he said. "A successful team requires successful community and corporate partnerships. My mission will be to create as many of these partnerships as possible throughout Lubbock."
The team's season begins in September.
The Texas Tech Ice Hockey Team was established in 1999. As a member of the American Collegiate Hockey Association, Texas Tech is becoming one of the fastest growing college hockey programs in the nation. The Red Raiders compete with Big XII Conference Teams as well as with colleges throughout the United States and Canada. Players are recruited from the United States, Canada, and abroad.
For more information about the team, or to learn about fundraising initiatives, visit www.texastechhockey.com.
Warning: include(): http:// wrapper is disabled in the server configuration by allow_url_fopen=0 in D:\www\texastech\newsletter\stories\06Aug\hockey.php on line 54 Warning: include(http://www.texastech.edu/scripts/emailArticle/include.php): failed to open stream: no suitable wrapper could be found in D:\www\texastech\newsletter\stories\06Aug\hockey.php on line 54 Warning: include(): Failed opening 'http://www.texastech.edu/scripts/emailArticle/include.php' for inclusion (include_path='.;D:\php5_6\includes;D:\php5_6\extras;D:\php5_6\pear;D:\php5_6;D:\www;D:\www\include') in D:\www\texastech\newsletter\stories\06Aug\hockey.php on line 54