Research/Academic Showcase
Campus Connection
Alumni Highlights
Athletics
Other
Helpful Links
December Commencement
Texas Tech University will award diplomas to 2,166 graduates during December commencement exercises.
Research/Academic Showcase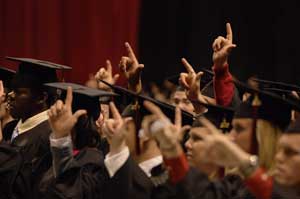 More than 2,100 students will receive diplomas during the December commencement exercises.
Written by Michael Castellon
Ambassador Gregory W. Engle, diplomat-in-residence at the Lyndon B. Johnson School of Public Affairs at the University of Texas, will speak at the Graduate School commencement on Friday, Dec. 15. The ceremony begins at 4 p.m.
Texas Secretary of State Roger Williams will speak at the Texas Tech undergraduate commencement on Saturday, Dec. 16 at the United Spirit Arena. The ceremony for the Colleges of Agricultural Sciences and Natural Resources, Business Administration, Human Sciences, Mass Communications and Visual and Performing Arts begins at 9 a.m. The ceremony for the Colleges of Architecture, Arts and Sciences, Education and Engineering begins at 1:30 p.m.
Melody Wilkinson, former president of the Texas Young Lawyers Association and partner in the Fort Worth office of Cooley, Manion and Jones LLP, will address the Texas Tech School of Law hooding ceremony at the Student Union Building's Allen Theater Saturday, Dec. 16 at 5 p.m. A reception at the Law School Forum will immediately follow the ceremony.
Warning: include(): http:// wrapper is disabled in the server configuration by allow_url_fopen=0 in D:\www\texastech\newsletter\stories\06Dec\commencement.php on line 54 Warning: include(http://www.texastech.edu/scripts/emailArticle/include.php): failed to open stream: no suitable wrapper could be found in D:\www\texastech\newsletter\stories\06Dec\commencement.php on line 54 Warning: include(): Failed opening 'http://www.texastech.edu/scripts/emailArticle/include.php' for inclusion (include_path='.;D:\php5_6\includes;D:\php5_6\extras;D:\php5_6\pear;D:\php5_6;D:\www;D:\www\include') in D:\www\texastech\newsletter\stories\06Dec\commencement.php on line 54