Research/Academic Showcase
Campus Connection
Alumni Highlights
Athletics
Other
Helpful Links
Texas Tech Announces 2007 Schedule
Red Raiders add some old SWC flavor to its 2007 season.
Athletics
Written by Chris Cook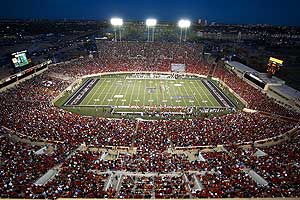 Texas Tech renews acquaintances with a former Southwest Conference foe, begins a new series with another and faces a formidable Big 12 Conference slate on the 2007 Red Raider Football schedule.
The Red Raiders play six games at home and six on the road next season. Texas Tech opens the season on the road at SMU on Sept. 1. This is the first game of a new four-year contract, which will feature home games on alternating years. The second game of a two-year deal with UTEP takes place in the home opener on Sept. 8, while a new two-year agreement with former SWC foe Rice begins in Houston on Sept. 15. The Owls will come to Jones AT&T Stadium in 2008.
2007 Schedule Notes
Rice appears on the schedule for the first time since 1995
Three home games in October are the most since the 1998 season.
UTEP comes to Lubbock for the second of a two-game contract.
Back-to-back road games in November are a first since 2003.
Five of the teams were at one point ranked among the top 25 in 2006.
| | | |
| --- | --- | --- |
| Sept. 1 | at SMU | Dallas |
| Sept. 8 | UTEP | Lubbock |
| Sept. 15 | at Rice | Houston |
| Sept. 22 | at Oklahoma State | Stillwater |
| Sept. 29 | Northwestern (La.) State | Lubbock |
| Oct. 6 | Iowa State | Lubbock |
| Oct. 13 | Texas A&M | Lubbock |
| Oct. 20 | at Missouri | Columbia |
| Oct. 27 | Colorado | Lubbock |
| Nov. 3 | at Baylor | Waco |
| Nov. 10 | at Texas | Austin |
| Nov. 17 | Oklahoma | Lubbock |
Warning: include(): http:// wrapper is disabled in the server configuration by allow_url_fopen=0 in D:\www\texastech\newsletter\stories\06Dec\schedule.php on line 54 Warning: include(http://www.texastech.edu/scripts/emailArticle/include.php): failed to open stream: no suitable wrapper could be found in D:\www\texastech\newsletter\stories\06Dec\schedule.php on line 54 Warning: include(): Failed opening 'http://www.texastech.edu/scripts/emailArticle/include.php' for inclusion (include_path='.;D:\php5_6\includes;D:\php5_6\extras;D:\php5_6\pear;D:\php5_6;D:\www;D:\www\include') in D:\www\texastech\newsletter\stories\06Dec\schedule.php on line 54