Research/Academic Showcase
Texas Tech University
Texas Tech University Health Sciences Center
Alumni Highlights
Development
Athletics
Texas Tech University Press
Helpful Links
Texas Tech's 'From Here, It's Possible' Contest Winners Honored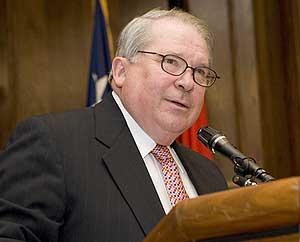 Interim Chancellor Haragan was impressed by the number of entries, but not surprised. He says "to be a part of Texas Tech is to be proud of a great tradition and to be inspired to tell the world about it.
"
Texas Tech University officials have announced the winners of the "From Here, It's Possible" essay contest.
development
All totaled, there were 18 prize winners from among 86 contest entrants. The Texas Tech University Office of Communications and Marketing hosted a celebration and reception in April.
The contest was conducted so that University and Health Sciences Center students, faculty, staff and alumni, and System staff could share their stories about how Texas Tech inspired, challenged and encouraged them to overscome obstacles, achieve success and thrive.
All prize winners received a framed certificate and a memento provided by VisitLubbock. First prize winners will have a $500 scholarship contribution made in their names to the Texas Tech scholarship fund of their choice.  Student winners received the $500 scholarships for their own use.
Second place winners received two box tickets to a Texas Tech football or basketball game.
And third place winners received a book from the Texas Tech University Press.
Winners were announced and recognized by Provost Dr. Bill Marcy, HSC Office of Rural and Community Health Vice President, Dr. Patti Patterson, and Interim Chancellor Dr. Haragan.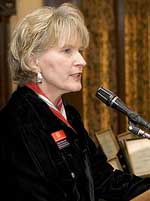 Dr. Alice White, Director of Public Relations.
Texas Tech University Current/Former Faculty/Staff
1st Place
Sheri Westerfeld Lewis, BA, Mass Communications, 2001, Assistant Director/Editorial & Broadcast Advisor in Student Media
From Tech, Anything is Possible
Lewis overcame financial problems and a difficult family situation to pursue her dream. She writes, "As I drive onto the Tech campus and see the familiar sites and faces, I am reminded that from this West Texas institution, anything is possible."
2nd Place
Ambassador Tibor P. Nagy, Jr., BA, Arts & Sciences, 1972, Vice Provost for International Affairs
From West Texas to Africa
Ambassador Nagy writes, "Because of the tremendous benefits I gained from Texas Tech and the West Texas region, this poor refugee kid, with little self-confidence and only average grades, was able to enjoy a highly successful and productive diplomatic career."
3rd Place
David E. Williams, Ph.D., Associate Professor, Communication Studies
The Dream of National Prominence
Coming to Texas Tech in 1991 to teach Communication Studies and direct the Forensics program, Williams had a dream of helping the speech and debate teams to gain national prominence. This was achieved in 1998 with an 18th place in the national championship tournament, and the teams have stayed in the top 20 and even the top 10 for several years.
Texas Tech University Current Student
1st Place
Lance Sullivan, BS, Arts & Sciences, 2002 Magna Cum Laude, Master's degree student
Veni, Vidi, Vici
"Veni, vidi, vici" (Latin for "I came, I saw, I conquered") describes how Sullivan, in his own words, "conquered a variety of challenges, which ranged from inadequate socialization to anxieties about my learning disability and lack of accomplishments as a student." He writes, "I owe the majority of my accomplishments to the professors who went above and beyond to assist me whenever I had a difficult time in understanding complex concepts."
2nd Place
Kevin Garrison, MA, Arts & Sciences, 2004, Doctoral student
From "Hear," It's Possible
When he was in kindergarten, Garrison's parents were told that "your son will be lucky to graduate high school" because of his hearing impairment. He eventually graduated in the top 10 percent of his class. In 2003, he graduated as "the most distinguished student in the College of Liberal and Fine Arts at Angelo State University." He is now two courses away from finishing the coursework for a Ph.D. at Texas Tech.
3rd Place
Janis Henderson, BS, Human Sciences, 2004, Master's degree student
My Dream Continues
When her youngest child started school, this single mother of three decided to go back to school. Overcoming serious health problems, she persevered and graduated Magna Cum Laude, in three years. She is now pursuing her Master's degree and works as a parent advocate at the Texas Tech Early Head Start Program.
Texas Tech University Alumnus/Alumna
1st Place
Jane Nagy, MA Interdisciplinary Studies, 2005
William "Bill" Edward Whitfill, BA, Arts & Sciences, 2003, Veteran, retired farmer, real estate agent
Never Too Late to Succeed
Nagy is proud to tell the story of her father William "Bill" Edward Whitfill. Whitfill came to Texas Technological College in 1938 with a dream of being a doctor. In 1941, only 14 hours away from his degree, he enlisted in the Army Air Corps, and after the war spent his years farming and raising five children. He retired from farming and moved to Plainview, where he became a very successful realtor. His family encouraged him to return to Texas Tech to complete his degree, and on May 15, 2003, TTU's oldest undergraduate, at 82, was given a standing ovation as he received his Bachelor of Arts degree.
2nd Place
Lina Alvarez Williams, BA, Arts & Sciences, 2003, Adjunct Instructor, Tallahassee Comm. College, FL
Texas Tech University: My Gateway to A Career in Mathematics and Education
Born in Medellin, Colombia, Williams' mother was so poor she couldn't afford school supplies so Lina had to miss school. At the age of nine, she came to the United States to live with her father, who was an alcoholic. She loved school and quickly learned that "education was my way out of a bad situation." The family moved to Snyder, where she was placed in foster care. Her senior year, she was in the National Honor Society and voted "Most Likely to Succeed." She came to Texas Tech in 2001, again receiving many awards and gaining expertise and stature in the mathematics field. She earned her BA in mathematics in 2003, and her MA in the same field in 2005.
3rd Place
Nancy Shomette, BGS, Arts & Sciences, 2004
From Here, Was it Possible?
Shomette says that her epiphany was when she realized that she was the only one in her family since 1900 to not graduate from college. Her children had graduated from Texas Tech, and education was "a valued commodity within my family." She writes, "December 18, 2004, forty years after I entered Texas Technological College – now known as a University – I walked across the stage to claim my degree."
Texas Tech University Health Sciences Center Current Student
1st Place
Melinda Kaye Williams, Speech-Language Pathology
Serving My Purpose
Williams considers herself lucky to be alive following a terrible accident in the summer of 2003. She went through weeks of therapy and had to re-learn how to do the things she previously took for granted. She writes, "Today, I cannot imagine my life without my near-death experience. (It) allowed me to overcome adversity, realize my strength, and attend Texas Tech University Health Sciences Center to pursue a degree in my chosen profession."
2nd Place
Hayley Blackwell, Physician's Assistant Program, Master's degree
From the Blowing Cotton Fields of West Texas, Anything is Possible!
Blackwell will graduate in May 2006 with a Master in Physician Assistant Studies, after a long and circuitous journey. As a child with numerous health problems, she learned early the need for health care in rural areas. She attended Texas Tech, where she was a twirler in the Goin' Band from Raiderland. She entered the Clinical Laboratory Science Program at the Health Sciences Center and earned her BS in 2003. She worked in the clinical laboratory at University Medical Center for two years. She applied to enter the Physician's Assistant Program twice before being accepted.
3rd Place
Alexia Rendón, BS, Arts & Sciences, 1999, Current Pharmacy Student
Endless Possibilities
A graduate of Frenship High School, Rendón was pointed in the direction of a career in science by a high school teacher. When she first entered a laboratory at Texas Tech University eleven years ago she made the most of the opportunities that she was offered, and graduated from Texas Tech in May 1977 with a degree in biology. She worked in various labs in Amarillo and at the Texas Tech University Health Sciences Center in Lubbock, before realizing that she yearned to return to school and further her education. She is now in her second year in the TTUHSC School of Pharmacy.
Texas Tech University Health Sciences Center Alumnus/Alumna
1st Place
Pam Alspaugh, BS, Arts & Sciences, 1971, Associate Director, Fredericksburg Campus
Misty Criswell, BS, CASNR, 1994; BSN, 2004
Misty Criswell – Local Student Earns Nursing Degree in One Year
Alspaugh is proud to tell the story of Misty Criswell. Misty graduated from Austin Comm. College-Fredericksburg as an LVN in 2004 and entered the one-year BSN program offered by Texas Tech University Health Sciences Center at the Fredericksburg campus.  She graduated in December 2005, passed her state board exam and is presently working at Hill Country Memorial Hospital.
Texas Tech University Health Sciences Center Current/Former Faculty/Staff
1st Place
Misti Dawn Wooten, Midland, Physician Assistant Program
From Here, All Things are Possible Again
Wooten's world fell apart in her 34th year. She was diagnosed with rheumatic fever, then with osteosarcoma. She went through chemotherapy and continued to work at her job in a doctor's office, believing that if others saw that she was making it, they could find the courage and strength to survive whatever was going on in their world. Eighteen months after the osteosarcoma was removed, a melanoma of the right upper lip was discovered and she underwent nine surgeries in two years. Finally, she applied with the TTUHSC Physician Assistant Program and was not only hired, but given encouragement and hope. She writes, "The group of people at the PA program are amazing. They see me as a person. God blessed my life through the process of my cancer. From here, I feel that all things are possible again."
2nd Place
Dereesa Purtell, Department of Ophthalmology, 1997-1999
From Here, It Is Possible
Purtell's dad chose her name from his 1958 Texas Tech yearbook. He liked it because it was different, and always told her to "be somebody…don't just follow the crowd…be unique, achieve something." In the summer of 1981, her first class at TTU was Atmospheric Science, taught by Dr. Donald R. Haragan. Thanks to that class, her understanding of weather conditions has allowed her to have over 300 hours of safe flying as a private pilot in single engineer airplanes and gliders. She earned her BBA in Accounting in 1984, and a Master's in BA in 1995. She was hired as Senior Clinical Administrator at the TTUHSC Department of Ophthalmology. Dereesa is now Assistant Vice President for Covenant Health System.  She writes, "Thanks to Texas Tech, I have been blessed with many opportunities. From here, it is possible for a small-town West Texas girl to reach her dreams -- and so can you!"
3rd Place
Yvonne Carrillo Brown, Department of Orthopaedic Surgery and Rehabilitation, 1977-2003
From Here ... It's Possible
As a risk-taking, energetic and enthusiastic six-year-old, Brown spent a lot of time in emergency rooms. She used her ER experiences to "help" her siblings, injecting them with sewing needles and soothing their hearts with candy. Twice, she started in Nursing School but had to quit. When she was married and a mother, she entered the one-year nursing program. With four small children and a full-time job, she entered the RN program and successfully completed it in spite of her youngest child's illness. She became the first nurse hired by Texas Tech, and for 25 years, Yvonne dedicated her life to helping fulfill the Texas Tech mission. She writes, "I am living proof that there is no limit to what you and Texas Tech can do together."
Texas Tech University System Current/Former Staff
1st Place
Janie Landin Ramirez, BS, Arts & Sciences, 1979, Outreach Specialist, College of Education
Pop's Dream
One of 13 children, Ramirez went from migrant field worker to a janitor who cleaned the Chancellor's office. But because her father said that nothing was impossible, she persevered and earned her degree. She interviewed with then-Chancellor John Montford and mentioned that she used to clean that office. He hired her to be the cultural diversity administrator for the Texas Tech University System, a position she held for five years. She writes that her father said "it was possible, and as usual he was right."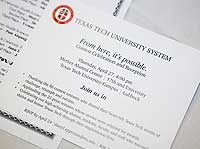 2nd Place
Janet Barrett, Lead Account Processor, Institutional Advancement
A Wonderful Place to Work
Following the tragic death of her daughter and grandson, Barrett and her family "found out what a blessing this Tech community is when there is a crisis." Gifts of love were given by co-workers and the Tech community, and the funeral expenses were paid in full. She writes, "Texas Tech is a wonderful place to work, and the great people who work here are truly awesome."