Research/Academic Showcase
Texas Tech University
Texas Tech University Health Sciences Center
Alumni Highlights
Development
Athletics
Texas Tech University Press
Helpful Links
A Matador Evening
46th annual homecoming dinner to honor Marsha Sharp and fund scholarships
Alumni Highlights
The Texas Tech Alumni Association is excited to announce that the annual Scholarship Awards Dinner is now going to be called A Matador Evening: The 45th Annual Homecoming Dinner.
This year's event will be held Friday, Oct. 6, 2006, at the Lubbock Memorial Civic Center. A reception will begin at 5:30 p.m. followed by dinner at 6:30 p.m.
As always, A Matador Evening is both a fund raiser and a friend raiser, with proceeds benefiting academic scholarships at Texas Tech. This year's focus will be on raising scholarship funds for the Texas Tech Honors College. All proceeds from this year's event will be presented to the Honors College in the name of Marsha Sharp, who will be honored at the dinner.
Legendary coach Marsha Sharp will be honored with The Lauro F. Cavazos Award. The Lauro F. Cavazos Award is presented to an individuals who have made significant contributions to the university through individual efforts or financial support.
Marsha Sharp has provided both countless hours of individual effort and financial support with a substantial personal donation toward the construction of the Marsha Sharp Center for Student Athletes. As the Lady Raiders' Head Coach (1982-2006), Marsha taught her teams not only the game of basketball but the game of life as well. She placed a high emphasis on academics and made sure her players always maintained a good moral character. In fact, Sharp's graduation rate of 97 percent of her players is among the best in the nation.
Here are more amazing records that Sharp leaves etched in the history books of Texas Tech:
Photo Credit:
Norvell Kennedy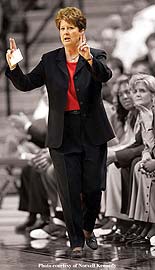 Sharp's graduation rate of 97 percent of her players is among the best in the nation. Proceeds from this year's event will fund Honor's College scholarships in her honor.
Three 30-win seasons and two decades of 20-win seasons
Four appearances in the Elite Eight
Eight conference championships, five Southwest Conference titles from 1991-96 and three straight Big 12 Conference titles from 1997-2000
11 appearances in the Sweet 16; 18 in the NCAA Tournament.
118 Big 12 Conference wins (The most of any Big 12 coach)
Lady Raider's first Southwest Conference postseason tournament championship in 1991
Texas Tech's only national championship in a team sport—the Lady Raiders posted a 84-82 victory over Ohio State in the 1993 NCAA championship game
Induction into the Women's Basketball Hall of Fame in 2003
The Distinguished Service Award, which will also be presented during the event, recognizes outstanding service rendered to the Alumni Association or Texas Tech University. The Texas Tech Alumni Association will announce the recipient of the award that evening.
The highly acclaimed stars of The Cactus Theater's Lubbock Texas Rhythm Machine will provide the entertainment in a thrilling concert of nostalgic hit music produced by Don Caldwell.
Show your appreciation for all that Marsha Sharp has accomplished at Texas Tech and fund future scholorships for the Honors College at the same time. Tickets for A Matador Evening are $50 per person. Table sponsorships are as follows:
| | |
| --- | --- |
| Matador | $1,000 |
| Red & Black   | $750 |
| Double T  | $600 |
| Masked Rider | $400 |
For more information regarding A Matador Evening, please call 806.742.3641 or visit our Web site at www.TexasTechAlumni.org.