Research/Academic Showcase
Texas Tech University
Texas Tech University Health Sciences Center
Alumni Highlights
Development
Athletics
Texas Tech University Press
Helpful Links
Task Force Addresses Consequences of Texas' Uninsured
Twenty-five percent of the population of Texas is without health insurance, more than 10 percent above the national average.
Research/Academic Showcase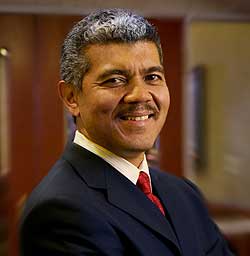 "The majority of the uninsured simply cannot afford health insurance," says M. Roy Wilson, M.D., M.S., president of the Health Sciences Center
.
A statewide system of regional multi-county health districts that offer Texas' uninsured residents access to adequate levels of health care should replace the current county-based system, according to a task force of 10 state academic health institutions.
Twenty-five percent of the population of Texas is without health insurance, which is more than 10 percent higher than the national average of 14.7 percent, according to Neil Lane, chair of the Task Force on Access to Health Care in Texas: Challenges of the Uninsured and Underinsured.
"In 2004, 5.6 million non-elderly people living in Texas were without health insurance. In some parts of the state, the percentage of the population without health insurance exceeds 30 percent or more," says Lane, senior fellow in science and technology at Rice University's Baker Institute for Public Policy. "If we don't address this problem soon, the health problems of Texas' rapidly growing population are likely to further intensify the negative impact on the state economically, educationally, culturally and socially."

To study the issues and develop recommendations for how to address the impending crisis, Baylor College of Medicine, Texas Tech University Health Sciences Center, Texas A&M Health Science Center, University of North Texas Health Science Center and the six health institutions of the University of Texas System created and funded a task force that also included employees of small and large businesses, health providers, insurers and consumers. The report was subject to outside peer review but the sponsoring institutions had no control over its content.
Seventy-nine percent of uninsured adults in Texas are part of the workforce and have one or more family members in the workforce. For a family of four at the federal poverty level ($20,000 a year), the average cost of private health insurance ($9,100 in 2005) is almost half their income.
"The majority of the uninsured simply cannot afford health insurance," says M. Roy Wilson, M.D., M.S., president of the Health Sciences Center, adding that this study crystallized the magnitude of the problem and urgency of addressing this issue.
"The task force found that uninsured individuals commonly go from one health care institution to another, often via the emergency room, where care is costlier. Significant numbers of laboratory tests, X-rays and other expensive medical procedures are repeated at each visit if the uninsured don't have medical records," Wilson says.
In the absence of coordinated care, medical problems are left untreated until they progress to a more advanced stage of impaired health, which warrants costlier intervention. The lack of health education and preventive medicine means that conditions such as hypertension and diabetes are not prevented and instead progress to complex diseases requiring expensive treatment.
"The lack of insurance is particularly problematic in many of the areas served by the Health Sciences Center, such as some of the rural communities of West Texas and the border region surrounding El Paso," Wilson says.
The task force noted that an unhealthy, poorly educated workforce results in lower productivity and reduces the vitality of the state's economy. Hospitals and emergency rooms facing the increasing burden of providing care for the uninsured may find they can no longer exist as financially viable institutions.
Among the task force's recommendations are the following:
Texas should adopt a principle that all individuals living in Texas should have access to effective, efficient, safe, timely, patient-centered and equitable health care.
Since indigency in Texas is currently defined as people living at 21 percent or less of the federal poverty limit (under $1,700 a year for a single adult), the statewide federal poverty level should be increased to 100 percent to qualify for indigent care in Texas counties.
Texas should redouble its efforts to aggressively pursue Medicaid and other federal reimbursement programs for which a state investment will result in substantial federal matching and supplementary reimbursements.
The state should develop and adopt tax policies and initiatives that encourage and enable employers, especially small businesses, to provide health insurance to their workers.
"The issue of the uninsured is one of immense importance for the future of Texas, and Kenneth Shine, M.D., vice chancellor for Health Affairs at The University of Texas, is to be commended for establishing the task force and bringing this issue to the forefront," Wilson says.
Related Links

Read the full report: Code Red, the Critical Condition of Health in Texas