Research/Academic Showcase
Texas Tech University
Texas Tech University Health Sciences Center
Alumni Highlights
Development
Athletics
Texas Tech University Press
Helpful Links
Trump's 'Apprentice' Benefits Mentor Tech Program
Research/Academic Showcase
Dr. Randal Pinkett, winner of season four of the hit television show "The Apprentice," spoke at a fund-raiser for Texas Tech's Lauro Cavazos and Ophelia Powell-Malone (Mentor Tech) Mentoring Program held at the Lubbock Memorial Civic Center on April 25.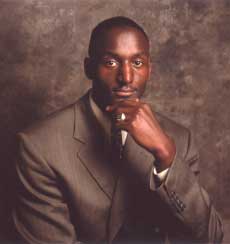 Dr. Randal Pinkett held five academic degrees and had founded a successful business by the time he made it through the grueling season of Donald Trump's "The Apprentice."
"Business, fundamentally, carries a great deal of risk," Pinkett told attendees. "What you have to do with your life now, as students and as professionals, is to take on as much calculated risk as you can if you want to succeed."
Mentor Tech strives to enhance the quality of the educational experience of students from underrepresented groups through programs, services, advocacy, and campus and community involvement.
The program, which was founded in the fall of 2002, was modeled after the Benjamin E. Mays Mentoring Program at Boston College.
The program honors Cavazos, the first graduate to serve as president of Texas Tech, and Powell-Malone, the first black undergraduate to enroll at the university.
This year, Mentor Tech had 270 students, and 156 active mentors. In addition, 125 students will be admitted to the program this summer.
Pinkett, who holds five degrees including a Bachelor of Science in electrical engineering from Rutgers University and a Ph.D. from Massachusetts Institute of Technology, urged attendees to continue outreach in the form of mentorship.
"What I have come to know is that it is not who you know, but who knows you," Pinkett says. "It's very important to perform at a level where people know you, and know your abilities. It's important that when someone has a need, they know to associate you with a solution to that need."
Related Links
Learn more about Texas Tech's Lauro Cavazos and Ophelia Powell-Malone (Mentor Tech) Mentoring Program at the Texas Tech Diversity Matters Web site.
Find out more about diversity matters at Texas Tech's Office of Institutional Diversity Web site.
Randal Pinkett's Web site.
Watch Dr. Pinkett in Action! (Quicktime 1:00)