Research/Academic Showcase
Campus Connection
Alumni Highlights
Development
Athletics
Other
Helpful Links
Spanish Professor Publishes Taste of Life in French Quarter
Texas Tech professor Genaro J. Perez, Ph.D. gives readers a poetic look into life in the French Quarter during the 1960s.
Research/Academic Showcase
Written by Gretchen Pressley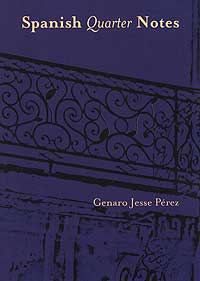 New Orleans is known as a city saturated with tradition, energy and excitement. From its French past to the annual Mardi Gras celebration, New Orleans is globally famous for its turbulent yet innovative history. As a witness to the society that emerged there as diverse cultures were thrown together, Genaro J. Perez uses his observations to create an emotional description of a young Hispanic man's experiences.
Perez's recent publication, "Spanish Quarter Notes," is a series of poems based on Perez's memories of the French Quarter, as well as those of his friends. Not simply a memoir, "Spanish Quarter Notes" offers mental images of the city life, characters and culture as seen through the author's eyes.
"New Orleans was a center for liberal ideas and freedom," Perez said. "There were civil rights protests and demonstrations, and the city was filled with street people looking for new lives."
A professor of Hispanic literature at Texas Tech since 1995, Perez got his "taste of life" in New Orleans when he took some time off between his undergraduate and graduate studies.
Perez received his undergraduate degree in English from Louisiana State University. He went on to earn an M.A. in Spanish, a Ph.D. in Spanish literature with a minor in Portuguese literature at Tulane University from 1971 to 1976.
During the late 60s, Perez also edited a magazine entitled "The New South Quarterly" which was "a journal of poetry, prose, and photography." This was the beginning of Perez's poetry career, as well as his first written capturing of the essence of New Orleans.
"While living in the Quarter, I was editing 'The New South Quarterly' and writing poetry," said Perez. "My influence while writing 'Spanish Quarter Notes' was T.S. Elliot."
After his education at Tulane, Perez taught at The University of Texas of the Permian Basin from 1978-1995, where he had an endowed chair.
Perez is the author of seven other books and many articles on Hispanic literature. Currently, Perez is the co-editor of "Monographic Review/Revista monográfica," a professional journal of criticism of Hispanic literature.  The "Monographic Review" attempts to critically examine non-mainstream topics and subjects. He is also a Book Review Editor of "Hispania," the journal of the American Association of Teachers of Spanish and Portuguese.
Warning: include(): http:// wrapper is disabled in the server configuration by allow_url_fopen=0 in D:\www\texastech\newsletter\stories\06Oct\perez.php on line 60 Warning: include(http://www.texastech.edu/scripts/emailArticle/include.php): failed to open stream: no suitable wrapper could be found in D:\www\texastech\newsletter\stories\06Oct\perez.php on line 60 Warning: include(): Failed opening 'http://www.texastech.edu/scripts/emailArticle/include.php' for inclusion (include_path='.;D:\php5_6\includes;D:\php5_6\extras;D:\php5_6\pear;D:\php5_6;D:\www;D:\www\include') in D:\www\texastech\newsletter\stories\06Oct\perez.php on line 60