Research/Academic Showcase
Campus Connection
Alumni Highlights
Development
Athletics
Other
Helpful Links
Texas Tech Students Benefit from Ryder Cup Golf
Texas Tech students benefit from West Texas golfer's Ryder Cup appearance.
Athletics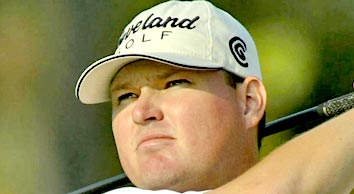 Chad Campbell
Photo courtesy of
www.pga.com
When the United States Ryder Cup team teed it up in Ireland last month, Texas Tech gained $25,000.
Each U.S. Ryder Cup team member designates $100,000 to the school(s) of their choice in support of the Golf: For Business & Life program. Since Golf: For Business & Life was established in 1999, the PGA of America has distributed more than $5.8 million to colleges and universities throughout the United States on behalf of members of the U.S. Ryder Cup Team.
"This is a combination of supporting schools that Amy and I attended," U.S. team member Chad Campbell said.  "I went to UNLV and Midland Junior College, and Amy went to Texas Tech and Odessa College.  Odessa and Midland are about 20 minutes from where we live.  Those schools did so much for me, in helping me through to my career.  They gave me a scholarship and I wanted to give back to them."
Golf: For Business & Life is a PGA of America college initiative designed to teach and improve the golf skill of college juniors, seniors and graduate students through instruction provided by PGA professionals. The successful program educates students, regardless of their chosen career, on how they can use golf as a business tool as they enter the professional world.  Local business leaders are also asked to address students on how golf has enhanced their business.
Warning: include(): http:// wrapper is disabled in the server configuration by allow_url_fopen=0 in D:\www\texastech\newsletter\stories\06Oct\ryder.php on line 54 Warning: include(http://www.texastech.edu/scripts/emailArticle/include.php): failed to open stream: no suitable wrapper could be found in D:\www\texastech\newsletter\stories\06Oct\ryder.php on line 54 Warning: include(): Failed opening 'http://www.texastech.edu/scripts/emailArticle/include.php' for inclusion (include_path='.;D:\php5_6\includes;D:\php5_6\extras;D:\php5_6\pear;D:\php5_6;D:\www;D:\www\include') in D:\www\texastech\newsletter\stories\06Oct\ryder.php on line 54