Research/Academic Showcase
Campus Connection
Alumni Highlights
Development
Athletics
Other
Helpful Links
Texas Tech Marks Completion of Student Union Building
New "living room" on campus fosters community.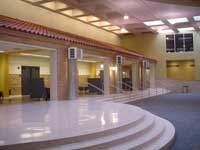 Lounge Area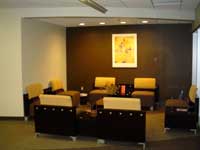 Meeting Room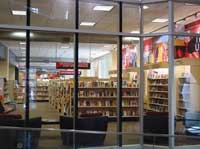 Barnes and Noble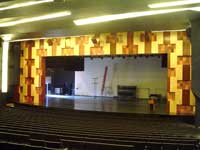 Allen Theatre
Written by Kathryn Faucher
The Texas Tech University community celebrated the grand completion of the state-of-the-art Student Union Building. The SUB, as it is known among students and faculty, was filled with the sounds of local performers, nationally-known comedians and even a mariachi band as the Tech Activities Board marked the end of a massive renovation.
On Sept. 6, Texas Tech welcomed members of the design team to the north entrance of the SUB to mark the official completion.
Student Government Association President, Ryan Worley, said he is looking forward to the community that the new student union building will provide.
"It should be a living room where students can be themselves." Worley says, "The SUB gives a sense of home on campus." The SGA is excited about the potential guests that the renovated union will help Texas Tech attract.
Texas Tech's newest addition boasts multiple improvements ranging from a variety of dining options to secluded study rooms, as well as countless other amenities for students. The Allen Theatre will play host to various guest speakers as well as movie nights throughout the upcoming semester.
"The new SUB will help us bring in bigger speakers and host world-class events right here at Tech," Worley says.
After five years of new construction and massive renovations, the facility has grown from about 180,000 square feet to 250,000 square feet.
At the start of renovations, designers envisioned an environment to foster and expand the feeling of community on the Texas Tech campus.
The 15,000 students daily filling the halls and occupying the cozy seating areas throughout the building are the best indicator of the immense success of the renovation project.
Warning: include(): http:// wrapper is disabled in the server configuration by allow_url_fopen=0 in D:\www\texastech\newsletter\stories\06Oct\sub.php on line 54 Warning: include(http://www.texastech.edu/scripts/emailArticle/include.php): failed to open stream: no suitable wrapper could be found in D:\www\texastech\newsletter\stories\06Oct\sub.php on line 54 Warning: include(): Failed opening 'http://www.texastech.edu/scripts/emailArticle/include.php' for inclusion (include_path='.;D:\php5_6\includes;D:\php5_6\extras;D:\php5_6\pear;D:\php5_6;D:\www;D:\www\include') in D:\www\texastech\newsletter\stories\06Oct\sub.php on line 54