Research/Academic Showcase
Campus Connection
Alumni Highlights
Development
Athletics
Other
Helpful Links
College of Education Honors Scholarship Recipients
The College of Education scholarship recipients get to say a personal thank you.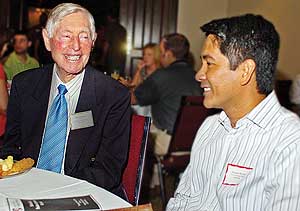 W.B. "dub" Rushing visits with Rommel Bunuan, the recipient of the Rushing Scholarship, at the College of Education reception.
Development
The College of Education hosted a reception on Sept. 19 for its scholarship donors and recipients. The college awards $50,000 in scholarships and fellowships every year and offers more than 20 undergraduate and graduate scholarships for a range of educational fields such as special education, elementary education and bilingual education. Some scholarships have more than one recipient.
At the ceremony, more than 40 students and guests met with 15 scholarship donors. Donors personally presented each recipient with their scholarship.
Sandra Jimenez, a junior elementary education major from Hale Center, balances being a full-time student with being a wife and mother.  She said she cried when she opened her scholarship award letter and wanted the donors and the scholarship committee to know how much the award and the reception means.
"Thanks to the committee, you have put me one step closer to achieving my goals," she said in a speech at the reception. "The reception is such an honor.  It's wonderful that the college cares so much about students to honor them like this."
Rommel Bunuan, a doctoral student from Manila, the Philippines, said he appreciates the scholarship because it is difficult for international students to finance their education.
The donor of Bunuan's scholarship, W.B. "dub" Rushing, was there to meet the recipient.
"I won the award last year but didn't get to meet Mr. Rushing," Bunuan said.  "I was really happy to finally meet him.  I feel so honored that we're given the opportunity to meet the donor and other scholars."
Rushing's sons Ted and Don and his grandson, Ross carry on the family tradition of giving. Rushing has established many endowments through the Rushing Family Foundation. He attended Texas Tech in the late 1920s and founded Varsity Bookstore in 1934.
Warning: include(): http:// wrapper is disabled in the server configuration by allow_url_fopen=0 in D:\www\texastech\newsletter\stories\06Oct\scholarship-recipients.php on line 54 Warning: include(http://www.texastech.edu/scripts/emailArticle/include.php): failed to open stream: no suitable wrapper could be found in D:\www\texastech\newsletter\stories\06Oct\scholarship-recipients.php on line 54 Warning: include(): Failed opening 'http://www.texastech.edu/scripts/emailArticle/include.php' for inclusion (include_path='.;D:\php5_6\includes;D:\php5_6\extras;D:\php5_6\pear;D:\php5_6;D:\www;D:\www\include') in D:\www\texastech\newsletter\stories\06Oct\scholarship-recipients.php on line 54