November 4, 2017 | Texas Tech University (Athletics)
At the conclusion of the national anthem at the Celebrate America Game as Texas Tech took on Kansas State in Lubbock, a V-22 Osprey out of Cannon Air Force Base near Clovis, New Mexico flew over Jones AT&T Stadium.
---
October 23, 2017 | Office of Federal Relations
The Texas Tech University System is welcoming Jennifer Brown as the new senior director of Federal Relations. Brown will represent the TTU System in Washington, D.C. for all federal government affairs.
Brown's career includes various positions on Capitol Hill. Since 2013, she has served as the chief of staff for the U.S. House Committee on Science, Space and Technology. Previously, she spent eight years as chief of staff for Congressman Lamar Smith. She is a former board member and officer of the Texas State Society of Washington, D.C.
A fifth generation Houstonian, Brown resides in Washington, D.C. with her husband, Barry, children, Leighton and Gipson, and their dog, Tex. She is an alumna of the University of Colorado at Boulder where she earned her bachelor's in political science.
Brown fills the position vacated when former director Kristina Butts was named TTU System Chief of Staff in August. Brown will officially assume her new duties Oct. 23.
---
September 26, 2017 | Office of the Chief Financial Officer (Office of Investments)
Texas Tech University System Chief Investment Officer (CIO) Tim Barrett was named one of the 2017 Power 100 by Chief Investment Officer for the second year in a row. Rankings were awarded based on five categories: innovation, collaboration, talent development, fund size and tenure.
The Office of Investments, located in Austin, Texas, manages all areas of investment for the TTU System and its four component institutions. The department strives to obtain the highest possible returns on the funds of the TTU System's endowment, in accordance with oversight established by the Board of Regents and the Investment Advisory Committee. Barrett has lead the office since 2013.
Michael Nichols, who manages public and private debt strategies in the Office of Investments, was also ranked by Chief Investment Officer in the publications Class of 2017 Forty Under Forty, a list of 40 asset owners from around the world who show a strong passion in their work and the ability to become potential game changers.
Building on the honors, TTU System Deputy CIO Dan Parker was recently recognized as an Emerging Leader by Institutional Investor at its annual Endowments and Foundations Roundtable. Parker was one of just two leaders who received the honor.
These recognitions come under a year after Barrett was awarded Chief Investment Officer's 2016 Industry Innovator Award for Endowments; he also took home the publication's award for 2016 CIO of the Year.
---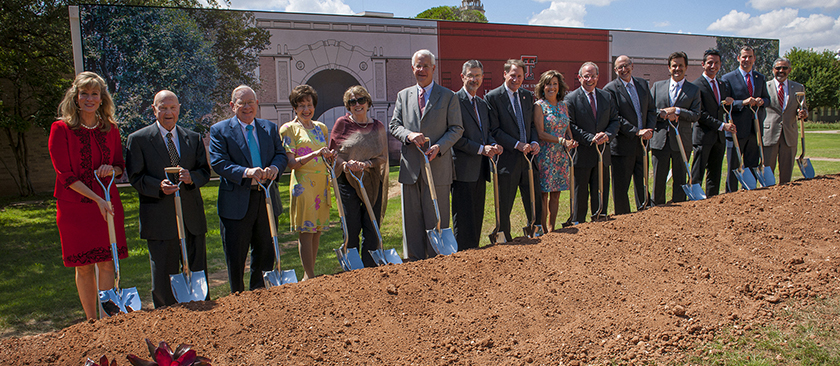 August 11, 2017 | TTU J.T. & Margaret Talkington CVPA (Institutional Advancement)
Officials from the Texas Tech University System celebrated Friday, Aug. 11 as Texas Tech University and the J.T. & Margaret Talkington College of Visual & Performing Arts broke ground on the School of Theatre & Dance Complex, an expansion and renovation of the Charles E. Maedgen Jr. Theatre.
The project was made possible by a $10 million donation from philanthropists J.T. and Margaret Talkington and is the first part of a two-phase project focused on updating and expanding the university's theatre and dance facilities.
Construction will include a grand lobby space, a box office and 178-seat, 5,162-square-foot black-box theatre that will help diversify the existing theatrical spaces. Two rehearsal spaces, lighting and computer assisted design and drafting labs, a green room and makeup and dressing rooms also are included in the project. Three 30-seat classrooms, a scene shop and administration and faculty offices will fill the remaining space.
---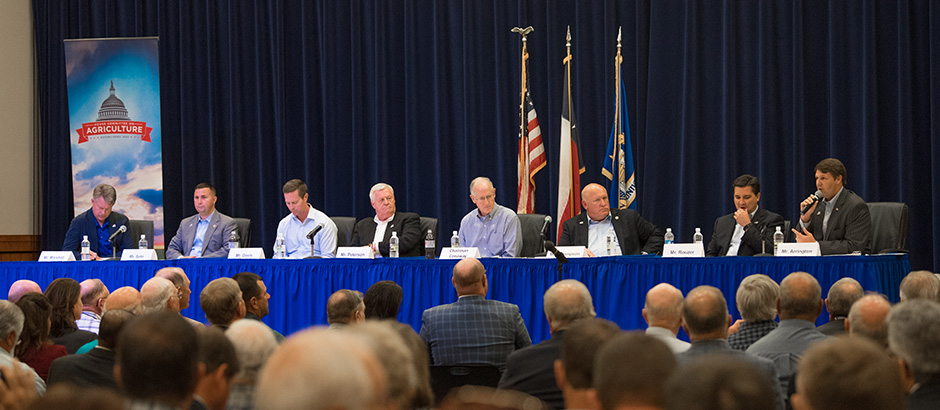 July 31, 2017 | Angelo State University (Federal Relations)
All eyes of the agricultural industry in the Lone Star state were on Angelo State University in San Angelo, Texas, on Monday, July 31 as ASU hosted the Farm Bill Listening Session: Conversations in the Field, on campus at the C.J. Davidson Conference Center.
The
U.S. House Committee on Agriculture
will travel the country hosting five total listening sessions across the nation. San Angelo was the only listening session held in Texas while other listening sessions took place in Gainesville, Florida, Morgan, Minnesota, Modesto, California and Decatur, Illinois.
House Ag Committee Chairman Michael Conaway, Ranking Member Collin Peterson and members of the committee listened to farmers and ranchers who are directly impacted by the upcoming 2018 farm bill.
Listening Session Attendees:
Michael Conaway, TX-11, Chairman House Ag Committee
Collin Peterson, MN-7, Ranking Member House Ag Committee
Glenn Thompson, PA-5, Vice Chairman House Ag Committee
Rep. Jodey Arrington, TX-19, House Ag Committee Member
Rep. David Rouzer, NC-7, House Ag Committee Member
Rep. Roger Marshall, KS-1, House Ag Committee Member
Rep. Rodney Davis, IL-13, House Ag Committee Member
Rep. Darren Soto, FL-9, House Ag Committee Member