Steve Sosland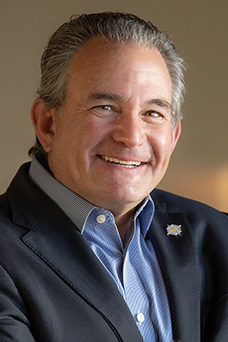 Vice Chancellor for Leader & Culture Development
Steve Sosland serves as the vice chancellor for Leader & Culture Development for the Texas Tech University System. In this role, Sosland serves as an integral part of implementing a values-based culture within the TTU System Administration and component universities. He also serves the system institutions in consultation with university presidents – and the TTU System Administration – with executive leadership searches, leadership development and coaching. Sosland began this role on Sept. 1, 2021.
Sosland joined the TTU System family in 2018 when he was named chief people officer at Texas Tech University Health Sciences Center. Sosland played a pivotal role in creating a sustainable, values-based culture at TTUHSC while serving as a role model and champion for the values-based initiative throughout the institution's five schools and six locations (Lubbock, Amarillo, Abilene, Dallas/Fort Worth, Midland and Odessa).
Sosland also elevated TTUHSC's Human Resources operations across the university to support the institution's mission by designing and implementing development programs for faculty, staff and administrators.
Before arriving at TTUHSC, Sosland served the University of North Texas System in multiple leadership roles. He served as the executive vice president, chief people and performance officer at the UNT Health Sciences Center at Fort Worth. Under his leadership, the UNT Health Sciences Center integrated values into their hiring process, created multiple leadership development programs and introduced coaching as a leadership function to replace annual reviews. He first joined the UNT System in 2013 as interim associate vice chancellor of Human Resources and special advisor to the chancellor.
In 2010, Sosland joined Hill Country Memorial as the hospital's chief operating officer in Fredericksburg, Texas. Working alongside the CEO, Sosland and the leadership team successfully navigated a business transformation and culture shift with the organization resulting in the hospital being awarded the prestigious Malcolm Baldrige National Quality Award.
Beginning in 2010, Sosland led a business transformation at Hill Country Memorial as the hospital's chief operating officer. Prior to his time in health care, Sosland joined Cameron-Brooks, a firm that specializes in helping junior military officers transition into the business world.
Sosland earned his Master of Business Administration at Boston University. In addition, he served various officer leadership assignments in the U.S., Europe and Central America for 11 years after graduating from the United States Military Academy West Point.
Steve and Kelly, his wife of 35 years, have two daughters. Rachel is a urologist, specializing in reconstructive surgery in Austin, and Rebekah is an aerospace systems engineer and program manager at NASA's Jet Propulsion Laboratory in Pasadena, California. Bekah and her husband, Gordon, are incredibly proud parents of their son, Milo, and daughter, Luna. Kelly's passion is traveling the U.S. to help build homes for Habitat for Humanity's Care-a-Vanners group. Steve's family's love fills his cup.
Contact Steve at steven.sosland@ttu.edu or (806) 743-1562.