Home /
Chancellor's Council Distinguished Teaching, Research Awards Announced
Chancellor's Council Distinguished Teaching, Research Awards Announced
December 6, 2007 | Written by Sally Logue Post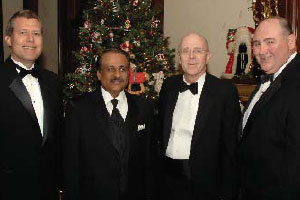 Chancellor Hance with the 2007 Distinguished Teaching and Research Award recipients Weidanz, Thekkumkara from TTUHSC and McDonald from Texas Tech (pictured L to R).
---
The highest awards given by the Texas Tech University System to faculty members at its member institutions were announced today (Dec. 6) by Chancellor Kent Hance.
The annual Texas Tech University System Chancellor's Council Distinguished Teaching and Research Awards went to two faculty members from Texas Tech University and two six faculty members from Texas Tech University Health Sciences Center (TTUHSC).
The Distinguished Teaching Awards went to Robert "Bob" McDonald, professor, Rawls College of Business Administration at Texas Tech, and to Jon A. Weidanz, professor, School of Pharmacy at the TTUHSC.
The Distinguished Research Awards went to Thomas Thekkumkara, professor, School of Pharmacy at TTUHSC and to Stephen Graham Jones, professor, Department of English at Texas Tech.
This is the seventh year for the Chancellor's Council to present the awards. The winners each receive a medallion and a $10,000 cash award. The Chancellor's Council raises funds for student scholarships and recruitment, faculty awards and support, as well as other programs.