Home /
TTU System Chancellor Honors Top Scholars
TTU System Chancellor Honors Top Scholars
September 29, 2011 | Written Dailey Fuller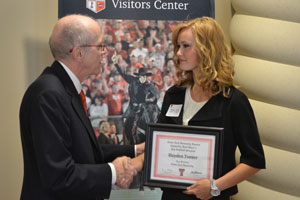 Hance presents a Top Scholar award to Hayden Turner, who is from Lubbock, Texas and a 2011 graduate of Coronado High School
.
---
Texas Tech University System Chancellor Kent Hance hosted an inaugural honor reception this afternoon, recognizing students in his Top Scholars program.
Established by Hance in the fall of 2007, the Top Scholars program at Texas Tech University is a strategic recruitment initiative that actively recruits students who have been admitted to the university with a score above 1500 on their SAT.
Hance honored past and the newest members of the Top Scholars program individually at the reception, and Texas Tech President Guy Bailey and head football coach Tommy Tuberville also made congratulatory remarks.
In his remarks, Hance stated the importance of recruiting the best and brightest students to Texas Tech.
"If we are going to spend money recruiting athletes, which I am entirely in favor of that, we need to also spend money recruiting top students," Hance said. "And if we are going to reach Tier One status, we need to increase our SAT scores at a time when scores are dropping all over the country. Part of that is getting the best students."
Helping advance recruitment efforts and the overall academic quality of students, Hance personally recruits these top scholars by calling them, paying for their travel to Lubbock and organizing first-class tours of campus.
In addition to paying for travel, Hance visits with these top students during their visits to campus and helps facilitate a tour of campus that highlights Texas Tech's excellent academic programs and student life. The Top Scholars program is funded by private donations Hance raises through the Chancellor's Council.
This fall marks the fourth class of top scholar students who have enrolled at Texas Tech. Of the 31 students who visited this past year, 60 percent (19 students) enrolled at Texas Tech in fall 2011.
In the years of 2006 and 2007, 13 and 11 students enrolled with an SAT score above 1500, respectively. In the last four years since the program has been underway, more than 75 top scholars have enrolled.
Meet the Newest Class of Top Scholars at Texas Tech
Aaron Carver - Mansfield HS, Grand Prairie, TX
Chose Texas Tech over Texas, Texas A&M, TCU and Ole Miss… Was a National AP Scholar… Was a member of National Honor Society… Was a Mansfield Independent School District Top Scholar… Is a recipient of Energy Rubber Group Merit Scholarship and Texas Trust Engineering Scholarship…
Sarah Doucette - Plano Senior HS, Plano, TX
Chose Texas Tech over Texas and Baylor… Was an AP Scholar with Distinction… Was an All Region Band Member… Was a member of National Honor Society… Is a recipient of the President's Platinum Scholarship…
Kevin Eaton, Jr. - McKinney Boyd HS, McKinney, TX
Chose Texas Tech over Arkansas and A&M… Was a Student of Excellence in Math at the United States Achievement Academy… Is a recipient of the Michael H. Laird Engineering Scholarship, Emerson Process Management Scholarship, and the Presidential Endowed Merit Scholarship…
Ryan Farmacka - Lake View HS, San Angelo, TX
Chose Texas Tech over Texas, MIT and Rice… Was his high school's valedictorian… Was a member of National Honor Society, Business Professionals of America and his school's UIL Academic team… Was a National Merit Commended Scholar…
Scott Ferrell - Amarillo HS, Amarillo, TX
Chose Texas Tech over Tulane University, New York University, West Texas A & M, Texas…Is a recipient of the President's Platinum Scholarship…Received the Outstanding Actor Award…Is a member of Alpha Psi Omega…Enjoys theatre and wrestling…
Kaitlin Foss - Carroll Senior HS, Southlake, TX
Chose Texas Tech over Oklahoma State…Was a National Merit Commended Finalist… Is a recipient of President's Platinum Scholarship…
Paul Gatewood - Saginaw HS, Saginaw, TX
Chose Texas Tech over Oklahoma and UNT… Was his high school's valedictorian… Named All-State as a percussionist… Was a National AP Scholar and a National Merit Commended Scholar… Was a member of National Honor Society and his high school UIL Academic team… Is a recipient of the Texas Tech Presidential and Electrical Engineering Scholarships…
Hillary Joiner - Garland HS, Garland, TX
Chose Texas Tech over UTD and Texas A&M… Was her high school's salutatorian… Graduated with an International Baccalaureate Diploma…Enjoys soccer and babysitting…

Sarah Kiriacon - Sandia HS, Albuquerque, NM
Chose Texas Tech over Washington, Puget Sound, Yale and New Mexico… Was a National Merit Finalist… Was a member of National Honor Society…Was a member of the Mock Trial Regional team and was named as a State Outstanding attorney…
Cameron McIntyre - Flour Bluff HS, Corpus Christi, TX
Chose Texas Tech immediately for the great engineering college… Was a National Honors Semifinalist…Enjoys reading…
Ethan Morgan- Barry Goldwater HS, Phoenix, AZ
Chose Texas Tech over Ball State, Drake, Purdue, Pennsylvania, Evansville and Arizona State… Graduated with an International Baccalaureate Diploma… Captain of the Barry Goldwater High School Chess Team with two regional championships and two third place state finishes…
Justin Montgomery- Hamilton HS, Hamilton, TX
Chose Texas Tech over Baylor and MIT…Was his high school's valedictorian… Was first team all district punter… Was a commended student in the National Merit Scholarship… Was a member of National Honor Society, Fellowship of Christian Athletes and Students, UIL academic team, and Eta Omnicron Nu… Is a recipient of President's Platinum Scholarship…Enjoys reading, college football and the Texas Tech Equestrian Center…
Quinn Pearce - Coronado HS, Lubbock, TX
Chose Texas Tech over Texas A&M… Was a National Merit Commended Scholar and AP Scholar…Enjoys computer games…
Rich Trieu - Rowlett HS, Rowlett, TX
Chose Texas Tech over Texas and MIT… Was an AP Scholar with Honor/Distinction… Was a member of National Honor Society…Played in the band…
Hayden Turner - Coronado HS, Lubbock, TX
Has been a Red Raider since birth… Was her high school's salutatorian… Was a National Merit Scholar… Was named Girls' Team Tennis UIL All-Academic Team… Was a member of National Honor Society… Was an Academic Decathlon State Qualifier…