Home /
TTU System Visits Washington, D.C.
TTU System Visits Washington, D.C.
Representatives from the Texas Tech University System traveled to Washington, D.C. in March to meet with the Texas Delegation and members of the federal government.
March 27, 2012 | Written by Dailey Fuller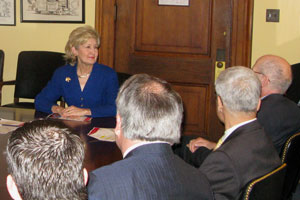 Chancellor Hance and leadership from the Texas Tech University System met with Senator Kay Bailey Hutchison and many other elected officials while in Washington, D.C.
---
In late March, Chancellor Kent Hance and representatives from the Texas Tech University System visited Washington, D.C. to meet with members of the federal government.
During the TTU System's annual trip, Hance and leadership from all three component institutions met with more than 100 government officials to communicate the importance of higher education and showcase the cutting-edge research projects underway at each university.
From Rayburn and Longworth Halls to the U.S. Departments of the Navy, Agriculture and Veteran Affairs, the system was well-represented during the four-day trip and made a great impression with multiple nation leaders.
Working with elected officials and policymakers has always been vital for public institutions of higher education. These visits, along with continued communication throughout the year, help explain the great things happening at the Texas Tech University System and identify areas of collaboration.
Federal Collaborations
Federal support can be found in many areas throughout the TTU System, and several of the component institutions' top programs would not be possible without backing from the federal government.
Over the years, Texas Tech University has received important federal support on some of its major research initiatives. Notable areas receiving funds include research with cotton, nanophotonics and pulsed power to disable improvised explosive devices on the battlefield.
Additionally, federal support helped establish the first national lab facility on the Texas Tech campus, Wind Science and Engineering Research Center, which is home to the only doctoral degree in wind engineering in the country and has been a powerhouse in wind research for nearly 40 years. The Institute of Environmental and Human Health at Texas Tech also received funds to successfully commercialize FiberTect®, a decontamination wipe helping military efforts.
At the Texas Tech University Health Sciences Center, research to find cures for and improve Alzheimer's disease, Parkinson's disease, AIDS, various cancers, infectious diseases, diabetes and border health has been funded. The university has also earned grants to help provide better health care for the underserved communities in West Texas.
Angelo State University has seen federal support for becoming a Hispanic Serving Institution, and its Center for Security Studies, which provides unique programs on border security and attracts international acclaim, would not be a reality without start-up funding from the federal government.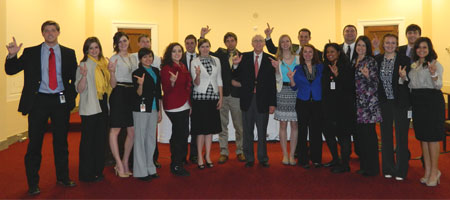 Chancellor Hance visited with Texas Tech students who are interning in Congressional and multiple federal offices during the spring semester.
---
Community Participation
Not only do these visits help bring higher visibility of the Texas Tech University System to federal officials, they also allow alumni in the area the opportunity to participate. Graduates from all three institutions attended a reception with fellow Red Raiders and Rams, showing how far the TTU System's influence reaches across the nation.
In addition to visiting with federal officials and alumni, Hance checked in on Texas Tech students who are interning as part of the Government & Public Service Internship Program. The Congressional internship program was established in 1999 and provides students with a unique opportunity to experience either the state or federal government first-hand.
Internships are available every semester, and students have the option to intern in Austin, Washington D.C. or Lubbock, Texas. More than 180 students have worked in Washington, D.C. as part of this program.