Home /
Sen. Cornyn Visits Texas Tech, Tours Cotton Research Facility
Sen. Cornyn Visits Texas Tech, Tours Cotton Research Facility
Sen. John Cornyn toured the university's Fiber & Biopolymer Research Institute with students and faculty researching the next generation of cotton.
April 12, 2012 | Written by Dailey Fuller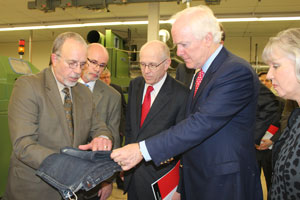 During the tour, Sen. Cornyn and his wife, Sandy, are shown a pair of jeans made from Texas cotton. Also pictured is Chancellor Hance, Eric Hequet and John Johnson.
---
Texas Tech University System and university officials welcomed U.S. Sen. John Cornyn, R-Texas, to Texas Tech University for a campus visit Thursday, April 12. Sen. Cornyn toured the university's Fiber & Biopolymer Research Institute (FBRI) to learn about cutting-edge research being done to develop the next generation of cotton and new applications for cotton in the marketplace.
During his tour, Sen. Cornyn met with students and faculty in the College of Agricultural Sciences & Natural Resources (CASNR) studying the cotton industry. He also saw firsthand research that is advancing cotton production efficiency and sustainability, including a liquid-repellant cotton fabric and other state-of-the-art cotton applications.
"If there is one university that excels at the kind of agricultural research projects that we've seen demonstrated here today, it's Texas Tech," Sen. Cornyn said during a news conference directly following the tour.
FBRI, the only academic facility of its kind in the nation, investigates all dimensions of cotton fiber quality, using data to improve performance and profitability in textile manufacturing and other cotton end products.
Some of the institute's research accomplishments include helping develop cotton varieties to produce higher-quality fiber suitable for global textile manufacturing and high-end fabric, and developing liquid-repellent cotton fabric products that can be stain and pathogen resistant.
"Texas Tech is one of the top cotton research institutions in the world," Chancellor Kent Hance said, who accompanied Sen. Cornyn on the tour. "We have three internationally-known research facilities, and each is providing vital insight to improve the cotton industry."
Texas Tech's Fiber & Biopolymer Research Institute is the only academic facility of its kind in the nation.
---
FBRI and Texas Tech's cotton research and education programs collaborate with multiple entities, including other universities, various federal and state agencies, corporations and commodity groups, such as the Plains Cotton Growers Association and the Plains Cotton Cooperative Association.
Generous Contribution
In 2009, the Department of Plant and Soil Sciences received a $7.5 million contribution from Bayer CropScience to support a collaborative research project called Project Revolution between Texas Tech and the company. The project is focused on developing cotton with improved fiber properties, and includes scientists affiliated with FBRI, which is within the department.
The contribution in support of new research initiatives and facilities development was eligible for a full funding match through the Texas Research Incentive Program (TRIP) and created a $15 million total contribution to the university.
Nearly $10 million is being allocated to support the research collaboration between Bayer CropScience and Texas Tech, and $5 million is going toward a planned Plant and Soil Sciences Building.
"If there's problems with disease- or insect-resistance, drought-resistance, those sort of characteristics in our products that are researched right here at Texas Tech, and here in America, those (innovations) promise not only to feed a lot of people, but help create jobs here in Texas and allow us to sell higher quality and better income-producing products as a result of this great research," Sen. Cornyn said.
Texas accounts for approximately 50 percent of U.S. cotton production, generating 44,000 jobs and $5.3 billion in economic activity at the farm gate. These strategic partnerships are furthering Texas Tech's research enterprise and are helping create innovative solutions and uses for Texas-grown cotton. New applications will be instrumental in ensuring the continued success of the cotton crop in Lubbock and West Texas.