Home /
University, Supporters Celebrate Opening of Kent R. Hance Chapel
University, Supporters Celebrate Opening of Kent R. Hance Chapel
Open to all faiths, the Kent R. Hance Chapel is non-denominational and was entirely funded through private donations.
June 6, 2012 | Written by Dailey Fuller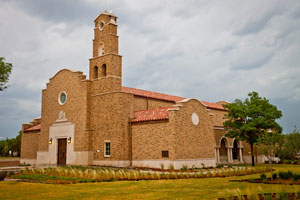 Located off 17th St.and University Ave., the Kent R. Hance Chapel features a prominent bell tower and outdoor courtyard area south of the building. View more photos.
---
Officials at Texas Tech University today (June 6) announced the completion of the Kent R. Hance Chapel, a more than $3.5 million project.
The project was funded through private gifts from many donors, including David Arrington, the late Margaret Talkington and Kent Hance, chancellor of the Texas Tech University System and lead contributor to the chapel.
Hance and supporters commemorated the milestone with an official dedication and ribbon-cutting ceremony.
"The new chapel is a wonderful addition to our university," Hance said. "Not only is this going to be a special place for so many of our students, alumni and friends to enjoy, it also serves as a beautiful cornerstone to the Texas Tech campus."
Located off 17th Street and University Avenue, near the McKenzie-Merket Alumni Center, the non-denominational, multifunction chapel is officially open for use and supports a broad range of religious and non-religious services, such as weddings, funerals, memorial services and other events.
With the completion of the Hance Chapel, Texas Tech will become the tenth university in the Big 12 Conference to have a chapel on its campus, joining institutions such as Texas A&M University and the University of Missouri. Other Texas colleges that have university chapels include the University of North Texas and the University of Houston.
The Hance Chapel can seat approximately 250 guests and is available to all faiths. Complementing the Spanish Renaissance architecture style established on campus, the 6,879-square-foot facility features a prominent bell tower, 14 colorful stained glass windows and an outdoor courtyard area south of the building. Other amenities include pendulant lighting, separate bridal and groom suites and a gold-tinted accent wall.
The project was approved by the Board of Regents in February 2011 and construction of the facility began in May 2011. Revenues generated by the chapel as well as an endowment set up by private donors will be used to sustain operations. No taxpayer money was used to construct the chapel.