Home /
May Named President of Angelo State University
May Named President of Angelo State University
The Board of Regents of the Texas Tech University System approves the appointment of Dr. Brian May as the president of Angelo State University.
November 7, 2012 | Written by Dailey Fuller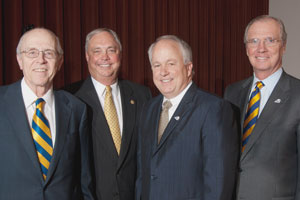 Left to Right:
Chancellor Kent Hance, State Rep. Drew Darby, Dr. Brian May and Board Chairman Jerry Turner
---
Today (Nov. 7), as recommended by Chancellor Kent Hance, the Board of Regents of the Texas Tech University System approved Brian May, Ph.D., as the new president of Angelo State University. May's new position as president is effective immediately.
"We are pleased to confirm the appointment of Dr. May for the Angelo State University presidency," said Jerry Turner, chairman of the Board of Regents. "Serving as president is an immense responsibility, and we fully believe Dr. May is the right person for the job. On behalf of the Board of Regents, we congratulate Dr. May and his family on this appointment."

After regents and system officials conducted a nationwide search, Hance named May as the sole finalist on Oct. 15, working in consultation with a search committee. May succeeds Joseph C. Rallo, Ph.D., who was announced as vice chancellor of academic affairs at the Texas Tech University System in May 2012.
Hance said this is an exciting time for Angelo State and May is the best suited to lead the institution.
"Angelo State University is doing great work in educating future generations of leaders," Hance said. "That, coupled with Dr. May's skill and experience, will take the university to a new level of excellence. We are thrilled to have Dr. May take over the reins of his alma mater and continue to build upon the success we achieved under Dr. Rallo."
May currently serves as provost and vice president for academic affairs at Angelo State and has been with the university for nearly 20 years, beginning as a member of the agriculture faculty in 1994. He said it is a great honor to be named the next president of Angelo State.
"It is with tremendous gratitude that I accept the position of president at Angelo State University," May said. "I love this university and am looking forward to working with our students, faculty, staff and leadership to continue our progress and momentum. The Angelo State family is made up of wonderful people, and we must all work together to further the university's success."
May counts among his major accomplishments at Angelo State securing nearly $10 million in federal and state funds for some of the university's top programs. In addition to personally obtaining more than $100,000 in research grants, May has obtained and awarded more than $500,000 in scholarships for students in the university's Department of Agriculture.
He previously served as dean of the College of Graduate Studies at Angelo State from 2009 through 2011 before being named interim provost and vice president for academic affairs. Under his leadership, graduate enrollment increased from 528 students in the fall of 2009 to 880 students this fall, a 66 percent increase.
May holds a bachelor's and master's degree in animal science from Angelo State University and a doctorate in ruminant nutrition from Texas A&M University. He has published approximately 40 refereed journal articles and abstracts.