Home /
Chancellor's Council Announces Angelo State Award Winners
Chancellor's Council Announces Angelo State Award Winners
Diminnie and Branham receive the Chancellor's Council Distinguished Teaching, Research Awards at Angelo State.
January 27, 2015 | Written by Jaryn Kilmer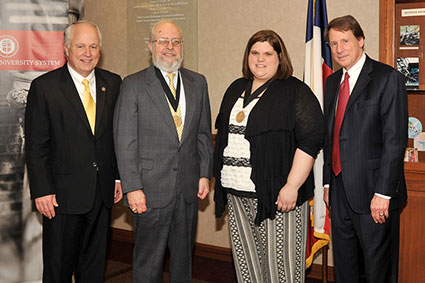 L to R: Dr. Brian May, Angelo State University President, Dr. Charles Diminnie, Dr. Loree Branham and Chancellor Robert Duncan.
---
Texas Tech University System Chancellor Robert Duncan today (Jan. 27) announced the Angelo State University recipients of the annual Chancellor's Council distinguished faculty awards. Recognizing excellence in teaching and research, these awards represent the most prestigious honors granted to faculty members throughout the TTU System.
"It is truly exciting to be able to present our dedicated faculty members with these honors," Duncan said. "The accomplishments of these faculty members and the impact they leave on their students make them a vital asset to our team."
The Distinguished Teaching Award went to Dr. Charles Diminnie who serves as an adjunct faculty member in the Department of Mathematics. Known for maintaining a learning environment that effectively integrates teaching, research and creativity, Diminnie serves as a mentor to his students and has directed several student research projects. He has served on multiple textbook selection committees and conducts a problem-solving seminar, as well as numerous presentations each semester as part of the departmental seminar series.
Diminnie has a distinguished teaching career that spans more than 45 years at five universities, joining Angelo State University nearly 20 years ago. Diminnie holds a B.S. in mathematics from St. Bonaventure University in New York and a master's degree and doctorate from Michigan State University.
The Distinguished Research Award went to Dr. Loree Branham who serves as an associate professor in the Department of Agriculture. Branham has been instrumental in the pursuit of internal and external grants, receiving more than $475,000 in funding from various agencies during her time at Angelo State University. She was a leader in the development of the bachelor's degree in food and animal science and marketing, which incorporates a tremendous amount of undergraduate research into its curriculum.
Branham also has served on 19 successful graduate committees, and her research has resulted in four peer-reviewed published journal articles, 20 abstracts at state and national conferences and 14 final report publications. She received her bachelor's and master's degrees in animal science from Angelo State University and earned her doctorate in animal science-food safety from Texas Tech University in 2007.
"Angelo State is helping expand the footprint of the TTU System in Texas, and it is the dedication and impact of individuals like Dr. Diminnie and Dr. Branham who are furthering that mission," Duncan said.
Each winner receives a commemorative medallion and a $5,000 award. The Chancellor's Council raises funds for student scholarships and recruitment, faculty awards and support, and other programs of excellence.
Additionally, six faculty members from Texas Tech University, four faculty members from Texas Tech University Health Sciences Center, and four faculty members from Texas Tech University Health Sciences Center El Paso received the honors for a total of 16 recipients.
About the Texas Tech University System
The Texas Tech University System is one of the top public university systems in the nation, consisting of four component institutions —Texas Tech University, Texas Tech University Health Sciences Center, Angelo State University and Texas Tech University Health Sciences Center El Paso—and operating at 12 academic sites and centers. Headquartered in Lubbock, Texas, the Texas Tech University System has an annual operating budget of $1.7 billion and approximately 17,000 employees focused on advancing higher education, health care, research and outreach.
In 2014, the Texas Tech University System's endowment exceeds $1 billion, total research expenditures were approximately $200 million and total enrollment approached 47,000 students. Whether it's contributing billions of dollars annually in economic impact or being the only system in Texas to house an academic institution, law school, and medical school at the same location, the Texas Tech University System continues to prove that anything is possible.
For TTU System news and updates follow us on Twitter - @TTUSystem.