Home /
Newest Public Art Piece Dedicated at Texas Tech
Newest Public Art Piece Dedicated at Texas Tech
Marco Cianfanelli's "Knowledge Structure" draws parallels between nature and intellect.
January 25, 2016 | Written by Doug Hensley
Officials at the Texas Tech University System and Texas Tech University dedicated the newest addition to its public art collection Thursday (Jan. 21) during a ceremony at the Texas Tech University Innovation Hub at Research Park.
The piece, a 17-foot mild steel sculpture, "Knowledge Structure," was created by artist Marco Cianfanelli.
According to Emily Wilkinson, who oversees the public art program, the sculpture is designed to rust over time. It was created to relate to the work that will go on at the Innovation Hub and Research Park, and it is meant to change in appearance from different vantage points.
"A parallel is drawn between tree and intellect," she said. "The trunks and branches represent a notion of different disciplines which are connected, interrelated and interdependent, sharing resources and displaying a process of growth and interconnectedness.
"The form of the human brain is evident, a neural network that is connected to, as well as dependent on, the earth. In this sense, the five columns or trunks that support the brain can be seen as conduits. This concept emphasizes the importance of innovation, science and technology in the furthering of humanity, as endeavors that need to be responsive to, and in synergy with, the environment."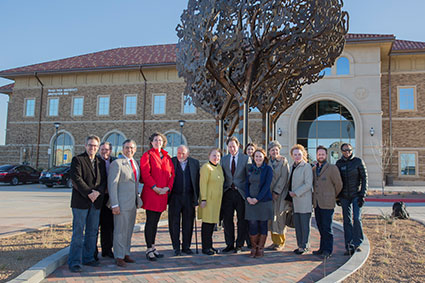 TTU System officials dedicate the

newest addition to its public art collection,

"Knowledge Structure."

---
TTU System Chancellor Robert L. Duncan and Vice Chancellor for Facilities Planning & Construction Michael Molina spoke during the dedication. The Innovation Hub and Research Park is located at 3911 Fourth Street.
The artist, Cianfanelli, is well-known for his bold public art pieces and large-scale sculptural works. He was a member of the design team for The Freedom Park, South Africa's national monument to freedom, in Pretoria. His monumental fragmented portrait sculpture, "Release," has recently been inaugurated to symbolically mark the 50th anniversary of Nelson Mandela's capture at the site in the KwaZulu Natal Midlands.
He has had seven solo exhibitions and has won numerous awards, including the ABSA L'Atelier and Ampersand Fellowship.
The TTU System Public Art Program was initiated by the Board of Regents in 1998 to enrich the campus environments and extend the educational mission at all of its universities. Working with the public art committee, public art manager and chancellor, original public artworks of the highest quality are commissioned.
Through the program, public artworks are funded using 1 percent (1%) of the estimated total cost of each new major capital project. Since then, more than 100 items created by some of today's leading artists have been added to the collection across the TTU System's multiple campuses.
About the Texas Tech University System
The Texas Tech University System is one of the top public university systems in Texas and the nation, consisting of four component institutions—Texas Tech University, Texas Tech University Health Sciences Center, Angelo State University and Texas Tech University Health Sciences Center El Paso—and operating at more than a dozen academic sites and centers. Headquartered in Lubbock, Texas, the TTU System has an annual operating budget of nearly $2 billion and approximately 19,000 employees focused on advancing higher education, health care, research and outreach.
In 2015, the TTU System's endowment exceeded $1.1 billion, total research expenditures were more than $215 million and total enrollment was approximately 50,000 students. Whether it's contributing billions of dollars annually in economic impact or being the only system in Texas to house an academic institution, law school, and health-related institution at the same location, the TTU System continues to prove that anything is possible.