Home /
Texas Tech University System Day at the Captiol
Texas Tech University System Day at the Captiol
Texas Tech University System leaders, legislators, alumni and supporters spent Wednesday at the Capitol for
TTU System Day
March 2, 2017 | Contact Scott Lacefield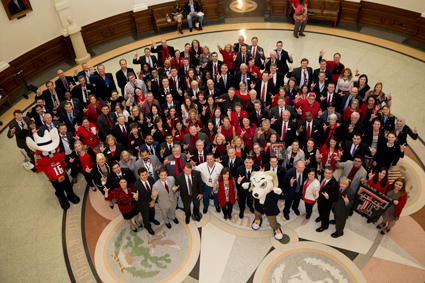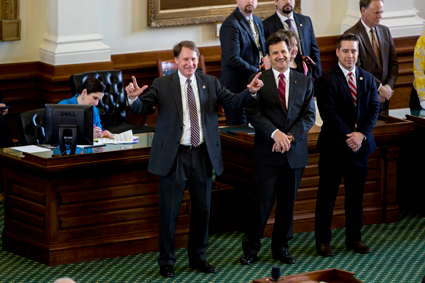 The 85th Legislative Session welcomed hundreds of Red Raiders and Rams on Wednesday (March 1) as Texas Tech University System Day was held in Austin at the Texas State Capitol.
The event, sponsored by the Texas Tech Alumni Association, is held every two years in Austin as an opportunity for the system's four component institutions, Texas Tech University, Angelo State University, Texas Tech Health Sciences Center and Texas Tech University Health Sciences Center El Paso, to gather its alumni and supporters in an effort to spread awareness and endorse funding for higher education, health care, research and outreach for system-wide initiatives.
"We are here today to thank our legislators for their past and continued support of higher education," Texas Tech University System Chancellor Robert L. Duncan said at the event's welcome reception Wednesday morning. "The legislature is very important to us at the Texas Tech University System. All of our institutions rely on the appropriations we receive from the legislature – they play a necessary role in allowing our students to strive for honor and excellence."
Duncan was joined at TTU System Day by leaders from throughout the system, including TTU President Lawrence Schovanec, ASU President Brian May and TTUHSC President Tedd Mitchell, who joined Duncan by welcoming alums and supporters at the reception to open the day.
Duncan and presidents of the system were on the House and Senate Chamber floors as supporters and alumni watched elected officials recognize the success of the system and its component universities.
Also during the day, system leaders and supporters delivered one-of-a-kind personalized TTU System gifts to each state legislator – approximately 300 gifts total. The gifts featured specialty beef from Texas Tech's Raider Red Meats and Angelo State's Meat Market.
"The personalized gift boxes we have to present today are first class," Duncan said. "Everything we do at the Texas Tech University System is first class."
TTU System Day was created by the Texas Tech Board of Regents in 1996 to expand on the existing Texas Tech Day and include all of the component institutions of the TTU System.
Video and photos of TTU System Day are courtesy of Texas Tech University, Office of Communications and Marketing
---
TTU System Day at the Capitol