Home /
A Love for the Law: Ram and Red Raider Judy Parker Begins New Chapter in the Courtroom
A Love for the Law: Ram and Red Raider Judy Parker Begins New Chapter in the Courtroom
Parker heads to Amarillo as the Seventh Court of Appeals Justice on the appellate bench that hears appeals from 46 counties in the Texas Panhandle and South Plains.
November 2, 2017 | Written by Dana Jennings
Across the nation, there are countless stories of Texas Tech University System alumni attaining success, making an impact and embodying the system motto – "From Here, It's Possible."
If the story of any graduate of the system proves the motto to be true, it is Angelo State University (ASU) and Texas Tech University (TTU) School of Law alumna Judy Parker.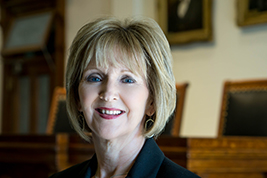 Justice Judy Parker
After serving the justice system and her communities for more than 30 years, Parker was sworn in by Gov. Greg Abbott as a justice on Seventh Court of Appeals of Texas on Oct. 19.
Parker says her journey to this honor started when she was still a child living in southern Brown County, Texas. Her father was a farmer and rancher, and her mother was a legal secretary in a law office in Brownwood and later became the chief adult and juvenile probation officer for three counties in the area.
"I like to joke that my father taught me respect for the law, and my mother was the law," Parker said. "I grew up loving the law, respecting the law and knew as early as five years old that's what I wanted to do."
Before being appointed by Gov. Abbott to the Court of Appeals, Parker served as a judge on Lubbock County Court at Law #3 since 2008. She has presided over various Lubbock courts in different capacities since 1994. Before then, she was a practicing lawyer for nine years in Lubbock.
A native of Central Texas, Parker's journey to a life and career in West Texas began when she enrolled at ASU.
"A college education can help make the most out of your life, so it needs to be at a place you're comfortable spending time," Parker said. "Angelo State is affordable, the student-teacher ratio is such that you get to know your professors and your professors know you. And San Angelo is a wonderful community that supports its university."
"It is a source of pride for all of us at Angelo State University when an alum proves to be personally and professional successful," ASU President Dr. Brian May said. "Justice Judy Parker's appointment to the Seventh Court of Appeals is no different, and we congratulate her on this honor. Judy possesses the dedication, drive and community commitment that make her a tremendous example for our students and the entire Ram Family."
After graduating from ASU in 1982, Parker made the move to Lubbock to attend law school.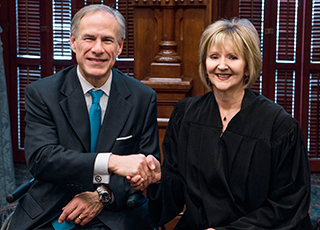 Gov. Abbott and Justice Parker
"I didn't know a single person here, but I had a dream to be a lawyer so I was determined and that's what I was going to do, and I had heard great things about Texas Tech," Parker said.
Like most first-year law students, Parker said she faced stress and self-imposed pressure to do well, but she says her key to succeeding in law school was getting involved at the school and in the local law community.
After her first year in Lubbock, Parker worked as a clerk at a law firm, participated in moot court competitions and served as editor of the legal research board. Parker was elected as the TTU liaison to the State Bar of Texas School Law Section.
"The ability to get involved and meet a good network of people who have gone through what you're experiencing can help you balance those stresses and pressures of law school," Parker said. "Learning to handle those early on is beneficial to students.
"The administrators and faculty at the Texas Tech School of Law are invested in the success of their students," Parker said. "Students should feel comfortable to ask questions and seek guidance and direction early on in their law school experience."
Parker said her involvement in extracurricular activities and the law community helped her become an active part of the legal system before she received her degree, but that nothing replaces hard work when it comes to achieving success.
"Justice Parker is extremely well-respected among her peers, as evidenced by her appointment to the Seventh Court of Appeals," TTU School of Law Dean Jack W. Nowlin said. "I know her to be prepared, patient, intelligent, collegial and professional. She always maintains the highest ethical standard, and by her daily conduct, serves as an exemplary role model. We are fortunate that she inspires others to hold themselves to these same high standards by sharing her ideals and values with students at Texas Tech Law School. Justice Parker is a wonderful representative of our Law School and the legal profession."
In fall of 2016, Justice Mackey Hancock, a TTU and TTU School of Law alumnus, announced his retirement from the Seventh Court of Appeals of Texas, leaving a vacancy for Gov. Abbott to fill. Parker decided to throw her hat in the ring.
On the morning her son started his senior year of high school in August 2017, Parker's phone rang with a call from the governor's office informing her she had been appointed as a justice on the Seventh Court. Parker describes it as a day she won't soon forget.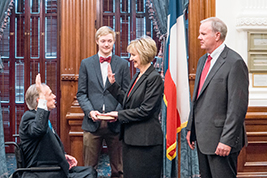 Gov. Abbott Swearing In Justice Parker
Throughout her career, Parker has simply tried to be the type of judge she would want to have hear her case if she were before the court.
"I want to be known as a judge who applies the law fairly, impartially, efficiently and effectively, as that law is written in our constitution and statutes," Parker said. "I want to bring that commitment to the Seventh Court of Appeals."
Parker says she is thankful for her experiences at ASU and TTU.
"They put me in a position to accomplish career goals important to me," Parker said. "I credit these institutions with instilling in me a desire to be successful and to make a positive contribution to the legal system. My life has been enriched through my education at these universities. Not just in the quality of my life, but in a vocation that I know is my life's calling."
Parker encourages young undergraduate and law students to get involved early during their education to earn experience and serve their communities to learn they are never too busy to help someone.
"The Texas Tech University System is fortunate to be represented by our outstanding alumni in all areas of industry and service," Chancellor Robert Duncan said. "Judy Parker is a standout of this group. She represents the very best of two of our institutions and has dedicated her life to public service. I am excited to see how she will lead our region in this new, well-deserved position."
Parker will run for election to a full term on the Seventh Court in 2018.
When asked if the TTU System motto – "From Here, It's Possible" – reflects her time at system institutions, Parker didn't hesitate.
"Oh most certainly. My college and legal education gave me the background and foundation to enter a profession that had been my dream since I was a young girl, and it has led to a long and meaningful career, and any success I have enjoyed was made possible by the excellent education I received at ASU and TTU School of Law. I am profoundly grateful."
About the Texas Tech University System
Established in 1996, the Texas Tech University System is one of the top public university systems in the state of Texas and nation, consisting of four universities—Texas Tech University, Texas Tech University Health Sciences Center, Angelo State University and Texas Tech University Health Sciences Center El Paso.
Headquartered in Lubbock, Texas, the Texas Tech University System is a $2 billion enterprise focused on advancing higher education, health care, research and outreach with approximately 20,000 employees, nearly 53,000 students, more than 330,000 alumni and an endowment over $1.2 billion.
In its short history, the Texas Tech University System has grown tremendously and is nationally acclaimed, operating on 17 campuses statewide and internationally. Under the dynamic leadership of Chancellor Robert Duncan, the Texas Tech University System has set forth a bold vision of excellence, collaboration and innovation and continues to prove that from here, it's possible.