Home /
TTU System Represented at House Committee on Veterans' Affairs Hearing in Lubbock
TTU System Represented at House Committee on Veterans' Affairs Hearing in Lubbock
TTU System representatives discussed veterans' educational opportunities and support in higher education.
November 16, 2017 | Contact: Scott Lacefield
Six individuals from the Texas Tech University System presented testimonies Friday as the TTU System hosted the House Committee on Veterans' Affairs field hearing entitled, "Best Practices in Veterans Education and Transition to Civilian Life," at the TTU System Building in Lubbock.
The subcommittee on Economic Opportunity of the House Committee on Veterans was represented by Congressman and subcommittee chairman Jodey Arrington (TX, 19th District) and Congressman and subcommittee ranking member Beto O'Rourke (TX, 16th District).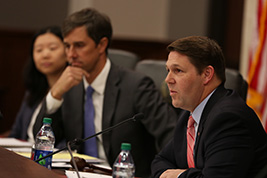 "The Texas Tech University System and its component institutions are committed to developing new and innovative opportunities for the dedicated men and women who have honorably served our country," TTU System Chancellor Robert Duncan said. "We thank the subcommittee on Economic Opportunity of the House Committee on Veterans' Affairs for coming to Lubbock, Texas, and for conducting this important field hearing and hearing from our veterans."
The six witnesses who testified include three individuals from Texas Tech University (TTU), two from Texas Tech University Health Sciences Center (TTUHSC) and one from Angelo State University (ASU). The witnesses' testimonies highlighted the best practices shared across Texas and nationwide so that veterans can have enhanced educational opportunities, resources and support receiving higher education.
Congressman Jodey Arrington, Subcommittee Chairman
"No one supports our military and veterans more than the people of West Texas. One testament to this commitment is Texas Tech University, which has consistently been ranked as a top university for advancing our veterans' educational and career opportunities. As Chairman of the House Veterans' Affairs Subcommittee on Economic Opportunity, I'm proud to welcome my fellow subcommittee members to witness firsthand the good work that is being done in West Texas to ensure success for our veterans. By doing so, we can empower veterans with the education and training necessary to compete for the best jobs and enjoy the greatest quality of life."
Congressman Beto O'Rourke, Subcommittee Ranking Member
"We can talk about improving economic opportunities and transition for veterans in the halls of Congress but there's nothing that makes the importance of this topic clearer and more urgent than being on the ground in Texas and hearing directly from student veterans, those currently serving and standout leaders in the Texas Tech community. The period in which our service members transition from active duty to civilian life is a make or break moment – for further education, employment and apprenticeship opportunities and mental health. I'm thankful to all those in the West Texas community who have welcomed us, shared their stories, engaged in tough but important discussions and dedicated themselves to a lifetime of service to our region, state and country."
"The service and unique perspectives that veteran students bring to our university is special. We are proud to offer veterans exceptional programs such as our Veteran to Bachelor of Science in Nursing which provides college credits for the training they received in the military. Participating in this hearing will allow us to share with the VA our best practices for veterans seeking to transition from military service to an educational setting."Tedd L. Mitchell, Texas Tech University Health Sciences Center, President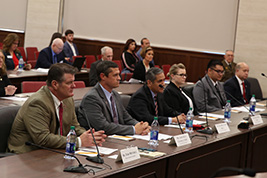 Lawrence Schovanec, Texas Tech University, President
"It is incumbent on institutions of higher education to create and provide accessible educational opportunities to those who have sacrificed and given of themselves as members of our military. Texas Tech is proud of its commitment to our military veterans and active service members and we are grateful many have chosen to pursue their educations with us."
Brian J. May, Angelo State University, President
"We are extremely proud to have a witness from Angelo State testifying before the U.S. House Committee on Veterans' Affairs. Along with those from the Texas Tech University System, we know Nicole will represent us well in speaking to the needs and issues facing our veterans."
ABOUT THE WITNESSES:
Tedd L. Mitchell, TTUHSC (President) | Testimony
Mitchell was named the eighth president of TTUHSC in 2010 following a career at the Cooper Clinic that spanned 19 years while serving as the president and chief executive officer the final four years and medical director for 15 years. From 1988 to 1996, Mitchell served as a captain in the U.S. Army Reserves (Medical Corps). He earned a bachelor's degree from Stephen F. Austin State University and is an Ashbel Smith Distinguished Alumnus of the University of Texas Medical Branch, where he received his Doctor of Medicine.
Kyle Chapman, TTUHSC (Veteran to Bachelor of Science in Nursing, Student) | Testimony
Chapman is the School of Nursing Veteran liaison for TTUHSC. He enlisted in the U.S. Marine Corps as an infantryman and was deployed on three occasions between 2002 and 2004. He is currently the veterans engagement director for Lubbock's Team Red, White & Blue, involved with three other Lubbock veterans chapters and a member of the Mental Health Coalition of Lubbock.
Lou Ortiz, TTU (Military & Veterans Programs, Director) | Testimony
Ortiz, a retired U.S. Air Force Colonel, is the director of the TTU Military & Veterans Programs, a department dedicated to serving more than 2,200 military and veteran students and their families. His Air Force career spanned 30 years as an enlisted airman, aircraft logistics and maintenance officer, staff officer and legislative liaison. He received a bachelor's degree from Black Hills State University, a master's from Troy State University and a Juris Doctor from the TTU School of Law.

Ikaika (Kai) Iuta, TTU (Veterans Affairs Office, Specialist) | Testimony
Iuta was stationed at Fort Lewis, Washington where he was assigned to the third Stryker Brigade Combat team. He was deployed for one year to Kandahar, Afghanistan attached to the 10th Mountain Division and 82nd Airborne Division. He received an associate degree from Green River Community College. He enrolled at TTU in the fall of 2015 where he is pursuing a bachelor's in psychology.
Nicole Meyer, ASU (United States Air Force, Staff Sergeant, ASU Alumna) | Testimony
Meyer enlisted into the U.S. Air Force in Portland, Oregon, in 2010 as a material manager and was deployed twice to Kandahar and Bagram, Afghanistan in 2013 and 2015. She is currently attending ASU pursuing a bachelor's degree in nursing and a minor in social work. Meyer is a work study student at the ASU Veterans Educational and Transitional Service Center.
Dave Lewis, VetStar (Director of Veteran Services) | Testimony
Lewis, a retired U.S. Air Force Colonel, is the director of veteran services at VetStar and provides support services to veterans in Lubbock and 20 surrounding counties. His career in the Air Force spanned 29 years as a fighter pilot. He received a bachelor's in mechanical engineering from the University of Southern California, a master's from Embry Riddle Aeronautical University and a master's from the Naval War College in national security affairs.
About the Texas Tech University System
Established in 1996, the Texas Tech University System is one of the top public university systems in the state of Texas and nation, consisting of four universities—Texas Tech University, Texas Tech University Health Sciences Center, Angelo State University and Texas Tech University Health Sciences Center El Paso.
Headquartered in Lubbock, Texas, the Texas Tech University System is a $2 billion enterprise focused on advancing higher education, health care, research and outreach with approximately 20,000 employees, nearly 53,000 students, more than 330,000 alumni and an endowment over $1.2 billion.
In its short history, the Texas Tech University System has grown tremendously and is nationally acclaimed, operating on 17 campuses statewide and internationally. Under the dynamic leadership of Chancellor Robert Duncan, the Texas Tech University System has set forth a bold vision of excellence, collaboration and innovation and continues to prove that from here, it's possible.