Home /
TTU System Leaders Meet with Congressional Leadership in D.C.
TTU System Leaders Meet with Congressional Leadership in D.C.
Chancellor Duncan and system institution presidents spent four days in the nation's capital conducting meetings to discuss research and programs across the system.
March 27, 2018 | Written by: Dana Jennings
Texas Tech University System leadership were in Washington, D.C. March 19-21 for the system's annual D.C. Fly-in.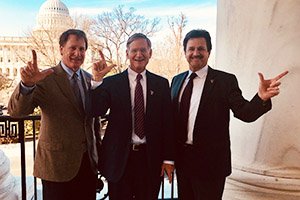 Chancellor Duncan, Rep. Lamar Smith and President Schovanec
TTU System Chancellor Robert Duncan was joined by Texas Tech University President Lawrence Schovanec, Texas Tech University Health Sciences Center President Tedd L. Mitchell and Texas Tech University Health Sciences Center El Paso Vice President for Research Peter Rotwein in the nation's capital.
The annual fly-in is an opportunity for system leadership to meet with the Texas congressional delegation, high-ranking members of Congress and other key federal leaders to discuss research and initiatives in motion across the system's component institutions.
"Building a presence at the federal government level is critical to elevating the national profile of our system," Duncan said. "Meeting with our congressional leadership to discuss the impactful initiatives of the system is an important step in earning federal funds to power our big ideas and transformative research."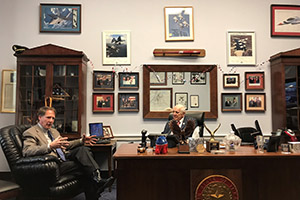 Chancellor Duncan meeting with Rep. Sam Johnson, after whom the Vietnam Archive at TTU was recently named.
Throughout their stay in Washington, D.C., system leadership met with key congressional leaders who represent districts containing TTU System institution campuses and academic sites including Rep. Jodey Arrington, Rep. Beto O'Rourke and Rep. Mike Conaway. System leaders also held meetings with Rep. Henry Cuellar, Rep. Pete Sessions, Rep. Lamar Smith and Rep. Sam Johnson, for whom TTU's Vietnam Archive was recently named. In addition, Cuellar, Smith and Arrington hosted a bipartisan Texas delegation meeting.
"Chancellor Duncan and the leadership at the Texas Tech University System do a great job of communicating their priorities and the value of research to policy makers in Washington," Arrington said. "Their efforts make my job as an advocate for making the investment in university-based discovery much easier. As former Vice Chancellor for Research at Texas Tech, I've seen firsthand the way research and technology development has enhanced the quality of our education, improved our overall quality of life in West Texas, and spurred growth in innovation, giving America the competitive advantage as the world's strongest economy."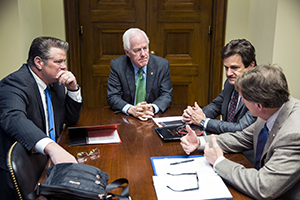 President Mitchell, Sen. John Cornyn, President Schovanec and Chancellor Duncan.
Duncan, Schovanec and Mitchell met with Texas Sen. John Cornyn and former Texas Gov. and current Secretary of Energy Rick Perry.
"These visits afford the university the opportunity to share programs and initiatives important to our mission with our representatives and senators," Schovanec said. "In Texas, we are fortunate to have strong leadership in Washington, D.C., each of whom graciously welcome Texas Tech into their offices. We are grateful for their support of the university and higher education."
Meeting topics ranged from issues of campus safety, energy and conservation to border health, food security, telemedicine and system-wide veterans programs. Topics discussed support areas in which system institutions are making federal appropriations requests.
"We always appreciate the opportunity to visit Washington, D.C., and share with our congressional delegation about the work we are doing at Texas Tech University Health Sciences Center," said Mitchell. "We are leading efforts in health care education and delivery that make an impact nationwide."