Home /
Texas Tech University System Regents Name Tedd Mitchell as Interim Chancellor
Texas Tech University System Regents Name Tedd Mitchell as Interim Chancellor
Mitchell has served as the president of Texas Tech University Health Sciences Center since 2010.
August 20, 2018 | Contact: Brett Ashworth
The Texas Tech University System Board of Regents today (Monday) named Tedd L. Mitchell, M.D. the interim chancellor of the TTU System. Mitchell, who is the president of Texas Tech University Health Sciences Center, received a unanimous vote by the TTU System Board of Regents during a special-called meeting of the board by telephone conference this morning.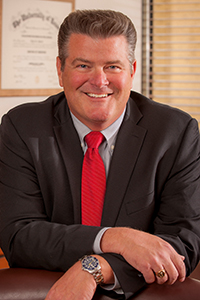 Dr. Tedd Mitchell

Mitchell will begin his interim chancellor duties Sept. 1 while remaining president of TTUHSC during this interim period. There has been no timetable set for the naming of a permanent chancellor.
"We are confident that Dr. Mitchell, a proven and dynamic leader, will excel in guiding the Texas Tech University System forward during this period of transition," Texas Tech University System Chairman of the Board of Regents L. Frederick "Rick" Francis said following the conference call. "Dr. Mitchell has led Texas Tech University Health Sciences Center to unprecedented heights, and we thank him for accepting this appointment."
Mitchell became the eighth president of TTUHSC on May 17, 2010 and is the university's longest-tenured president. He has led TTUHSC to record enrollment growth, with the university now graduating more health care professionals than any other health related institution in Texas. Under his leadership, TTUHSC has experienced the largest facility expansion since its inception and successfully established the system's fourth university, Texas Tech University Health Sciences Center El Paso.
"The System's four universities have significant momentum, and I look forward to supporting the presidents during this transition," Mitchell said. "I appreciate the Board of Regents trusting me with such an important responsibility. Their leadership and dedication to our Texas Tech System is invaluable. I'd also like to thank Chancellor Robert Duncan for his four years of dedicated service to the Texas Tech University System. I consider him a dear friend. His support for our universities and me personally will always mean a great deal."
Prior to coming to TTUHSC, Mitchell served as president and chief executive officer of the Cooper Clinic in Dallas, an internationally recognized center of excellence in preventive and sports medicine.
On Aug. 13, Duncan announced his retirement following four years as the chancellor of the Texas Tech University System.
About the Texas Tech University System
Established in 1996, the Texas Tech University System is one of the top public university systems in the state of Texas and nation, consisting of four universities—Texas Tech University, Texas Tech University Health Sciences Center, Angelo State University and Texas Tech University Health Sciences Center El Paso.
Headquartered in Lubbock, Texas, the TTU System is a $2 billion enterprise focused on advancing higher education, health care, research and outreach with approximately 20,000 employees, nearly 53,000 students, more than 335,000 alumni and an endowment over $1.2 billion.
In its short history, the TTU System has grown tremendously and is nationally acclaimed, operating on 17 campuses statewide and internationally. The TTU System has set forth a bold vision of excellence, collaboration and innovation and continues to prove that from here, it's possible.